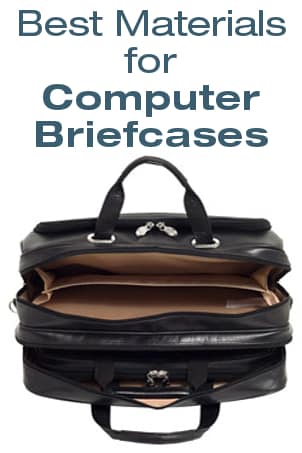 SHOP LAPTOP CASES NOW >>
When you take your laptop on the go, common sense dictates that you should protect it with a laptop case. Computer briefcases and laptop bags allow you to take your laptop with you wherever you go while protecting it and looking stylish and professional. For your convenience and the protection of your computer, it's smart to learn about the best materials for computer briefcases. Keep reading to discover the four most common materials used in computer briefcases and laptop bags so you can make an informed purchase.
Computer Briefcase Materials:

Leather: Soft and durable, leather is one of the most popular materials for laptop cases. While you're shopping, you'll see leather that's genuine and leather that's faux. Genuine leather is made from the hides and skins of animals through a process called tanning and is generally more expensive. Faux, or artificial, leather is crafted of man-made materials to imitate real leather. Leather computer bags look very professional and can also be great for customization and decoration, depending on the style.

Aluminum: Hard and extremely durable, aluminum laptop cases have been anodized, which is a process used to increase resistance to corrosion and water. Aluminum cases can be designed specifically for your equipment, and nearly all of them come with foam padding to protect your laptop from jostling around inside the metal case. Another advantage of aluminum cases is that many have locks to help prevent theft.

Nylon and polyester: Nylon and polyester are two of the best materials for computer briefcases. These man-made materials have many advantages. Polyester, for example, is resilient, dries quickly, holds its shape, and resists mold and mildew. Nylon is a lightweight material prized for its durability and incredible strength. With these great qualities as well as thick stitching to help prevent wear and tear, nylon and polyester do an amazing job of protecting laptops. Most nylon and polyester cases have zippers, but some have straps or snaps. Most nylon and polyester computer briefcases also have liners or foam padding to protect your expensive electronics.

Canvas: Canvas is a strong and durable, heavy-duty, plain-woven fabric made from cotton. Normally a liner isn't required in a canvas computer briefcase, but some people prefer to have one. Canvas laptop bags come in a huge amount of colors and patterns, and some are even blank to allow for customization.

Shop Laptop Cases
Shop Business Cases
Shop All Luggage & Bags
See All Guides
Read More Luggage Guides
Learn More about Laptop Bags
Published April 29, 2010
Updated December 22, 2014