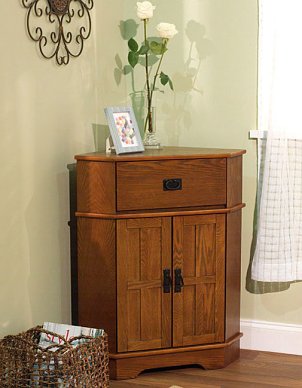 After deciding on the purpose and room for your new cabinet, it's time to think about material. As with all furniture, you will want to select a cabinet material depending on what you plan to use your cabinet for, as well as your personal taste. Take a look below to learn about the best materials for cabinets.

Wood: The majority of cabinets produced are created with hard wood. Wood cabinets can be found in both traditional and contemporary designs. If you are hoping for durability in addition to design, no cabinet looks better and lasts longer than one manufactured using a solid wood. Cherry cabinets offer a sense of classic luxury while holding up to years of use. Oak cabinets conjure up the feel of subtle country beauty, and maple cabinets can look bright, modern and chic.

Metal: Metal cabinets are terrific for those looking for a modern touch in their homes; most metal cabinets have a very forward-looking aesthetic, so they are perfect for a contemporary home. Metal cabinets are also great for home offices. Obviously, metal offers great durability, but it is vulnerable to dings and dents. Keep in mind that most metal cabinets have sharp corners, making them slightly less suitable for homes with kids running around.

Glass: If you have something you feel like showing off, nothing is better for display purposes than a glass cabinet. These cabinets are certainly more fragile than those made from other materials, but they offer something other cabinets can't: transparency. Many glass cabinets are manufactured with built-in lighting systems to exhibit whatever you choose to place in them. Because of their show-off quality, glass cabinets are perfect for places you expect guests, such as the dining room and living room.

Particle board: If you are shopping for a cabinet on a tight budget, looking into particle board cabinets is worthwhile. Particle board is a relatively new material produced by pressing wood particles together, which is then bound with synthetic resin. Furniture created with particle board is almost always the least expensive option and also the lightest, but you will sacrifice some durability. If you plan to move often, a particle board cabinet could be an ideal option.

View All Furniture
Back to Guides Directory