Best Materials for Blankets
by Staff Writer
No one type of bedding satisfies every sleeper. Fortunately, blankets and throws are made in all kinds of fabrics, meaning it's easy to find one that perfectly suits your preferences. When you're shopping for the right blanket, consider warmth, texture, and your tastes.
Blanket Materials: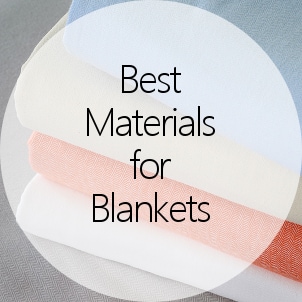 Shop for Blankets & Throws ▸
Cotton:

One of the best things about cotton blankets is their remarkable versatility. At one time, cotton's popularity was threatened by synthetic materials like polyester and acrylic. Now, cotton and synthetics get along. A dose of strengthening fiber, like polyester or bamboo, can improve a cotton blanket, especially if you're after something that's less prone to wrinkling or something that can stand up to frequent washings. Of course, 100 percent organic cotton blankets also have advantages, especially for people who have sensitive skin, allergies, or a fondness for the environment. Choose a woven cotton blanket in a herringbone, basketweave, or mesh pattern if you're after something heavier, more breathable, and softly textured.

Fleece:

You might not expect synthetically made fleece blankets to be environmentally friendly, but most polyester fleece is made from PET, a resin that's recycled from soda bottles and then used to make synthetic fibers. Remarkably soft and surprisingly warm, as a material for blankets, fleece is also excellent at "wicking" away moisture, similarly to finely knit wool.

Wool:

Wool blankets are perfect for snuggling up in cold weather. Much like fleece, wool blankets combine breathability with insulation; wool's natural crimp makes room for a lot of air in the weave. Even thin, lightweight wool blankets hold in more heat than most other blankets of comparable weights, while blended wool blankets make some of the best combinations of strength and softness.

Cashmere:

Cashmere blankets get their name from the wool of domesticated Cashmere goats. The wool is extremely fine and yields an exceptionally soft, lightweight, downy fabric. Cashmere blankets generally require a little more care than other blankets, but these luxurious blankets can be worth it.

Silk:

Silk blankets and silk blanket blends are especially sought-after pieces of baby bedding, especially when they feature a classic silk border binding. Silk is also used in small doses to both soften and strengthen other blanket fabrics without weighing them down.

Chenille:

These blankets are made from chenille, a term that refers to the way in which a fabric is woven. Small spans of filament or yarn are bound up in at least two twisted pieces of strong yarn. The short pieces are what give the chenille its soft, lustrous pile. Chenille blankets can be made out of rayon, cotton, acrylic, and many other materials.