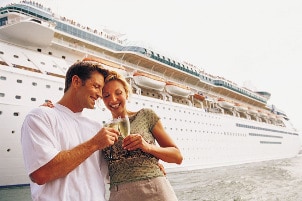 Packing for a cruise is not quite the same as packing for a hotel stay. While you may spend seven days on a cruise and need the same amount of clothing as you would need for a land-based vacation, you simply cannot pack for a cruise in the same way as you would for a trip to the mountains or beach. The reason for this is that the average cruise ship cabin is going to have about half the square footage as the average hotel room. Your luggage choice needs to reflect this confined space.
The Best Luggage:

Garment bag: Use a garment bag to pack any formal clothing you plan on bringing aboard a cruise ship. Not only will a garment bag be better for keeping your clothing free of wrinkles, but it also takes up less space in the confined space of your room since it can hang in the closet. Many cruise ships have a formal night for which you may want to dress up. This means either a very nice suit or tuxedo for men and a very nice dress for women. In addition, you might bring along a suit or dressy jacket and some nice cocktail dresses. A garment bag is useful for maintaining clothing made of any material prone to wrinkles.

Standard suitcase: Get a standard, rectangular suitcase for packing most of the clothing that you will wear on a daily basis, like T-shirts, shorts, swimwear and even the somewhat fancier collared shirts you might wear into port. The standard type of suitcase comes in a variety of sizes and options, such as having rollers and extendable handles. Choose a suitcase that will comfortably fit all the clothing you plan on taking but that is still small enough to not take up much room in your cabin. Rather than buying something with fancy compartments, it would be better to go for as much space as you can get so that you can compress the contents just by closing the suitcase. Remember that space is limited inside your cabin, so try to fit as much clothing into one suitcase as possible. Suitcase material that can expand is a better choice than hard plastic; you can stuff in any clothing you may buy while on the cruise.

Port luggage: You should also pack a piece of small luggage for carrying with you on a daily basis, especially into ports. This can be a backpack, fanny pack or messenger bag. You will want this addition to your luggage for carrying essential items off the ship, like identification, bug repellent, sunscreen, cell phone, camera or camcorder and plenty of bottled water. This small-sized luggage will also serve for bringing back souvenirs so that you don't have to carry around lots of bags. Make sure whatever type of luggage you choose for taking into port can be zipped all the way closed for better security.

Accessories: Travel accessories help simplify your time in a new environment. Toiletry bags can help keep all of your small items together and from falling on the floor. Luggage tags reduce the chance of lost luggage, and passport covers not only protect your passport, but can also hold credit cards and cash, too.

Buy Luggage
Back to Guides Directory