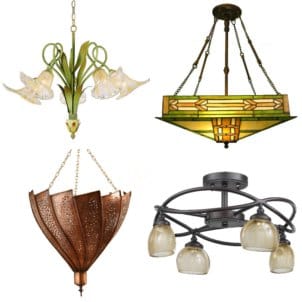 Light fixtures can produce big design statements in a room. If something feels incomplete, even after you've decorated, chances are your lighting situation is to blame. Replacing a standard frosted glass pendant light or a boring brass chandelier with something unique and tailored for your style will pull together all the elements of a room and highlight the architecture of a home.
Statement-making Light Fixtures:

Floral chandeliers: Floral chandeliers are a bold choice, but they can look stunning in rooms with simple decor and furniture. Look for fixtures made from hand-blown glass that feature elegantly swooping stems and delicate buds to add impact to a plain dining room. For a playful children's room, try an iron chandelier with sculptured roses painted in pastel colors.

Copper pendant lights: Simple brass pendant lights look deceptively subtle, but they create a dazzling glow when light is reflected off them. These type of fixtures typically pair well with classic furnishings rather than contemporary style. If your kitchen has high ceilings and a rustic feel, a copper pendant light coupled with dark wood cabinets and granite countertops can even create the feel of a luxurious European villa.

Multi-light flush mount fixtures: If you love the thought of a dramatic light fixture but can't find a way to fit it into your modern home, try flush-mount light fixtures with several lights bulbs. These ceiling chandeliers are usually made from chrome and glass with sleek lines and an unimposing style. Modern lighting should be an art piece on its own and these fixtures fit the bill.

Stained glass ceiling fixtures: Tiffany-style hanging ceiling fixtures cast a cozy glow in whichever room you decide to hang them. These handcrafted lights can be used to decorate an empty hallway or installed in the study for a sophisticated ambiance. The wide color spectrum that these light fixtures are created in make them easy to match with any home style. For a mellow look, try muted green and yellow patterns, or try bolder color combinations, like red, blue, orange and white in a Victorian-inspired pattern, for a more intense look.

Buy Lighting
Back to Guides Directory