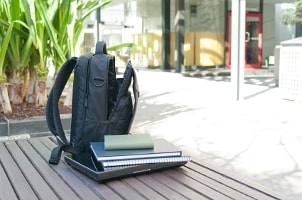 To help you stay portable and protect your laptop, it's a good idea to have a durable laptop backpack. The right laptop backpack can give you an efficient carrying case for your computer, books and accessories. You'll also want a backpack that's durable, comfortable and functional. Here are a few tips on choosing a computer backpack that fits your laptop and helps you stay connected anywhere.
Laptop Backpack Features:

Weatherproof materials: The great thing about laptops is that they make so much of your work and play portable. If you're taking your laptop backpack outside, make sure you're prepared for any weather you might encounter. Water-resistant laptop backpacks can help protect your laptop, books and other gear from rain or snow. A laptop backpack made from durable canvas or poly-vinyl material is tear-resistant, too, which is essential for a heavy laptop bag.

Backpacks that fit your laptop: Depending on the size of your computer, you may need a larger laptop backpack to fit it. Most laptop backpacks list the maximum screen size of the computers that they can hold; 15 inches is a pretty common maximum capacity. If your screen is bigger than that, you may have to search a little for a bigger laptop backpack with a larger compartment.

Additional storage: Your laptop isn't the only thing you'll be carrying in your backpack. Make sure you have room for books, laptop accessories and anything else you plan on carrying. Laptop backpacks will often have extra compartments for water bottles, cell phones, accessory cables and miscellaneous items.

Think ergonomically: With a laptop and everything else, your laptop backpack can get heavy, putting a lot of weight on your shoulders. Padded shoulder straps and backing can help reduce the strain on your back, shoulders and neck. A padded laptop compartment can help protect your laptop from bumps and scratches, too. If you ride your bike a lot, a laptop backpack with lumbar straps can be more stable while you ride. If your laptop bag is simply too heavy to carry at times, consider buying a rolling laptop bag; built-in rollers and an extendible handle can take the load off of your shoulders.

Buy Laptop Backpacks
Back to Guides Directory