Best Kitchen Tables for Small Spaces
by Staff Writer
Published August 30, 2010 | Updated June 11, 2015
When you're shopping for a kitchen table, you have to consider style, function, and size. If the room isn't very large, size may seem to outweigh the other factors, but it shouldn't stop you from buying a kitchen table you really like. You don't have to sacrifice style just to get a kitchen table into your apartment or small home. Some shapes work better in small spaces than others, and some features can help you make the most of the room you have.
Best Small Space Tables: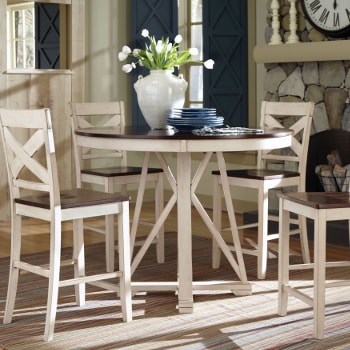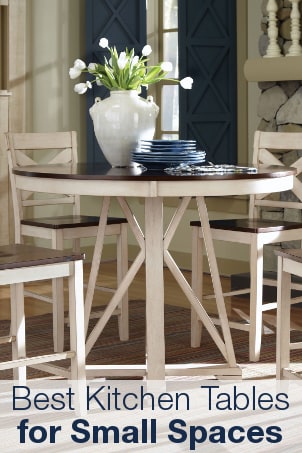 Shop Kitchen Tables ▸
Square Dining Tables

A square will take up less room than a rectangle, and you can always seat at least four people there, one on each side. A square that is at least 32-inches to 42-inches wide will comfortably seat four. If you only need dining for two, look for square dining tables that measure 24-inches to 30-inches wide.

Round Dining Tables

While there are large round tables out there, you'll find many smaller ones, too. Some round dining tables look like smaller versions of traditional or contemporary dining tables, and many are available in fun retro styles, too. To seat two people, look for a table that is about 24-inches in diameter. To seat four, look for a table that is about 36-inches in diameter.

Bar-Height Tables

The narrow, tall profile of a bar table makes it perfect for a small kitchen. They usually seat four people, two on each long side, but you may be able to pull up two more bar stools on the short ends of the table, too. And while you're preparing food, you can use the table top as additional counter space, too.

Bistro Tables

Bistro sets are often sold as outdoor furniture, but you'll see many that are perfect for kitchens, too. Bistro tables are usually round, so keep the round table dimensions in mind when you're shopping for a bistro set. Some indoor bistro table are pub table height, so if you don't buy it as a set, make sure you get the correct height of chairs to go with the table.

Extendable Dining Tables

If you prefer the look of rectangular tables or need to seat more than four people, an extendable dining table may be the thing for you. Many square and round tables come with extra leaves to turn them into rectangular or oval tables. These leaves need to be stored somewhere, but many new versions have storage built in under the table top.

Drop-Leaf Tables

Another option is the drop-leaf table, which has the extra leaf attached. A hinge allows the leaf to "drop" and hang from the table, making the table smaller for everyday use or when you have fewer people to seat.

Glass-Topped Dining Tables

Don't underestimate the power of illusion. An airy glass-topped table can make your kitchen feel more spacious. Glass tops can be the perfect solution if you need a bigger table but you don't want to feel like the room is overwhelmed by furniture.