Best King Bedspreads for Summer
by Amanda Mears
When summer comes, you won't want a king bedspread that weighs you down. Commonly used as a term to encompass several types of coverlets and lightweight blankets, bedspreads add a finished look to your bedroom without the added bulk of plush cotton comforters and down-filled duvets. King bedspreads allow you to get a restful night's sleep without sacrificing style. Finding summer bedding for your king sized bed is a breeze with this guide, so keep reading to learn all about the best king bedspreads for summer.
King-size Summer Bedspreads: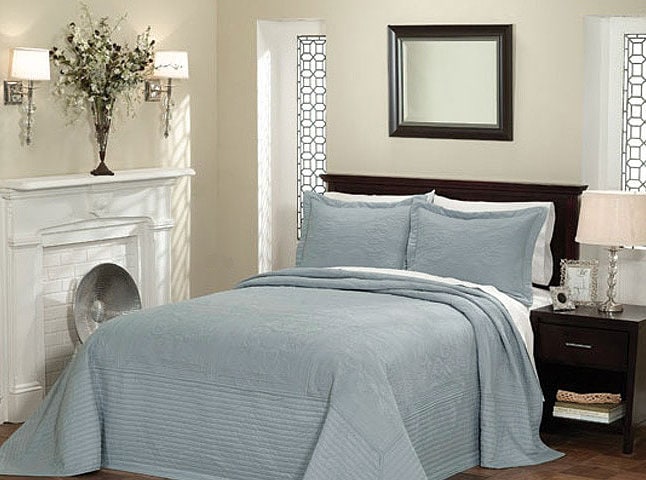 Shop Bedspreads ▸
Tufted cotton bedspreads.

For a cozy look that won't weigh you down during warm months, look for tufted cotton bedspreads. Commonly referred to as chenille bedspreads, tufted cotton bedspreads are made by alternating short pieces of silky yarn with longer ones and twisting them to make piles. This process gives cotton chenille bedding a nice sheen and makes it incredibly soft. Tufted cotton throws can be found in many different weaves and textures, so picking the right thickness for your bedroom is easy.

Cotton coverlets.

Similar to tapestries, cotton coverlets are slightly thicker than your sheets for added coverage. If you frequently find yourself uncomfortably hot during summer nights, a cotton king coverlet may be your best option. Cotton coverlets typically feature stylish patterns that will add elegance and charm to your bedroom. For year-round use, place a duvet underneath your king coverlet. This will provide extra warmth while allowing you to keep the same bedroom decor look that you love. It will also help protect your duvet from dirt and pet hair.

Lightweight quilts.

Quilted king bedspreads can come in a number of different thicknesses. While often thought of as winter bedding, these cozy coverlets also come in a lightweight style that is perfect for warm nights. Quilted king bedspreads make your bedroom look pulled together when folded on the end of a bed or draped across it. Look for embroidered quilts made with lightweight batting that will keep you at a comfortable temperature all night long. As a bonus, these lightweight quilts can be used as throws in any room of the house when winter hits.