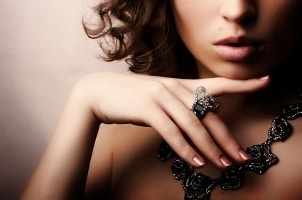 The little black dress is a standard, but you don't want to be average when you're wearing one. Black cocktail dresses come in many styles, yet the best way to set yourself apart from the sophisticated party crowd is with interesting jewelry. Just like you dress up jeans and T-shirts with gold charm bracelets and chunky beaded necklaces, you can enhance your little black dress with stylish and eye-catching baubles. Consider some of these fabulous pieces the next time you dress up in your best black mini-dress.
Accessorizing a Little Black Dress:

Estate jewelry: Enhance your new dress with wearable antiques. Estate jewelry is available in many fun styles featuring rare gemstones, interesting metal combinations and standout designs. It can be very elegant and dressy; plus, many pieces are one-of-a-kind. You won't blend in when you wear retro beaded bracelets, oversized cameo pendants and polished dome cocktail rings.

Two tones: Many women wear silver jewelry with a little black dress, and others prefer gold, but mixing both metal types is much more interesting. Two or three tones of metal jewelry will catch anyone's eye. Try yellow gold, white gold and rose gold chains all at once or invest in a titanium and gold bangle bracelet with sparkling diamond accents. Two-tone watches are popular because of their versatility. Don't hesitate to wear silver earrings with a two-tone watch and a stacking set of rose and yellow gold rings.

Cultural influence: Add a touch of the world to your little black dress with culturally significant jewelry. Chandelier earrings evoke the styles of fabulous Bollywood dancers. Choose a pair with bright red and gold accents. Colorful braided bracelets offer an African influence to an outfit, and jade rings and bracelets will remind you of Asian styles. Look to the world when you want to uniquely accent a little black dress.

Buy Jewelry
Back to Guides Directory