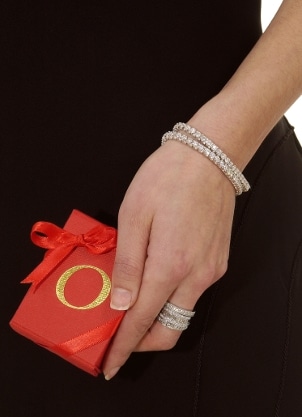 You finally invested in a gorgeous diamond tennis bracelet for your fine jewelry collection. You showed off your diamond bracelet at a black-tie wedding reception and used it to add sparkle to a holiday gala gown, but now it sits in your jewelry box, waiting to be worn again. You shouldn't have to wait to wear your favorite pieces of diamond jewelry. A tennis bracelet is a great option for many ensembles and events. You just have to figure out which pieces of jewelry will complement your diamond tennis bracelet without overpowering it. Start with these pieces, which are divided by jewelry type, and then add your favorite diamond jewelry to the mix.
Pairing Tennis Bracelets:

Earrings: When paring earrings with a diamond bracelet, it is best to choose studs or simple dangling earrings. Your glitzy, over-the-top diamond chandelier earrings are best saved for an occasion when they can shine all on their own. Diamond stud earrings are an elegant option when wearing a tennis bracelet. These earrings will match the bracelet, but they won't overpower your entire outfit with glittering, sparkling gems.

Necklaces: A nice necklace is a wonderful accompaniment to a diamond bracelet. Start by matching the metals. Sterling silver, white gold and platinum look lovely together, while yellow gold looks best with other gold-tone metals or two-tone jewelry. Consider wearing a simple white gold chain with your platinum tennis bracelet. A petite diamond pendant adds just the right amount of sparkle.

Rings: Rings sit very close to bracelets, so it's best to choose simple rings when wearing a diamond tennis bracelet. Sterling silver and gold bands are luxurious but understated, making them the perfect option for pairing with diamond bracelets. Diamond rings are also appropriate options, but avoid dramatic cocktail rings with extravagant gemstone embellishments; these rings will only detract from your prize bracelet.

Brooches: Brooches are ideal for pairing with diamond tennis bracelets because they are typically worn on a sweater, shawl, scarf or handbag, balancing the glitz and glamour throughout your ensemble. Try a diamond brooch or branch out with a pin covered in rubies and sapphires.

Bracelets: Just because you are wearing your favorite diamond bracelet, that doesn't mean you can't pair the piece with another bracelet or two. When wearing multiple bracelets, choose one bold piece and keep the others simple. Pair your diamond tennis bracelet with three stackable sterling silver bangles or a thin gold cuff.

Buy Tennis Bracelets
Back to Guides Directory