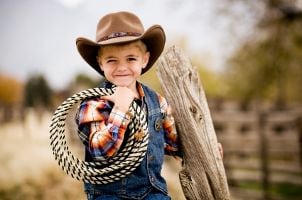 Plan the perfect cowboy birthday party for your little cowhands and their posse with a Western-themed party. With the right decorations, games and food, you can create a hoedown that your child and his or her friends will remember for years to come. Find cowboy party supplies and crafts for a colossal cowboy party, and don't forget to capture every moment with your camera.

Invitations. Create cowboy party invitations that look like "wanted" posters using recycled brown cardstock paper. Print a black-and-white picture of the cowboy or cowgirl of honor in the center and use an old-style font or block lettering. Include the time and place for the round-up on the cowboy party invitations. Use fun phrases such as "howdy partner" and "saddle up for the showdown" for added laughs. Ask guests to come in their favorite cowboy attire, including rugged jeans, flannels and boots.

Decorations. For cowboy party decorations, cover tables with red and white tablecloths. Display "wanted" posters of the birthday cowboy or cowgirl throughout the cowboy party room. Add balloons in colors of red, white and blue. Shape strands of rope into lassos and place them on the tables or hang them on chairs. Use bandanas or a Western-themed fabric for place mats. Create large cutouts of cacti, horses and cowboys for decorations. Bales of hay, stalks of corn and other items can add to the cowboy party decorations. Place bottles of water or juice boxes in a wheelbarrow filled with ice for refreshments.

Dress up. Costumes and clothing can add to the cowboy birthday party theme. Because all guests may not know each other, give each guest a name tag cut to look like a sheriff's badge. Use silver cardstock cut into star shapes and attach the name tags with safety pins or tape. Provide guests with bandanas in a variety of colors. Give each guest a straw cowboy hat and a water pistol for an authentic cowboy look.

Games. Though cowboys can be serious, there is nothing like having several fun games planned for even the roughest, toughest cowboy to enjoy. If you're holding a summer party, tell all cowboys and cowgirls to bring their swimsuit for a shoot-out using water pistols. Have a galloping contest; use brooms as pretend ponies and have races to see whose horse is the fastest. Old-fashioned potato-sack jumping contests are easy to assemble. Hold a boot toss contest: Have children toss bean bags, gold coins or other cowboy party supplies into an old pair of worn cowboy boots.

Food. Create an old-fashioned homemade spread, complete with a cowboy party cake. Barbecued hamburgers and hot dogs or sloppy joes are always a favorite for little cowboys and cowgirls. Salsa and chips, beef jerky and even pulled pork sandwiches are additional ideas. Corn on the cob and cornbread are traditional cowboy staples. Create a cowboy party cake in the shape of a hat, pony or boot to continue the theme.

Goodie bags. Thank each guest for coming by giving them a galvanized pail filled with cowboy party favors. Fill each pail with a small amount of straw or hay. Add trail mix, gold coins and licorice rope to each pail. Tie pieces of raffia or fabric for additional decoration to the pail's handle. For other cowboy party favors, consider purchasing small plastic harmonicas, sheriff badges and cowboy figurines.

View All Crafts
Back to Guides Directory