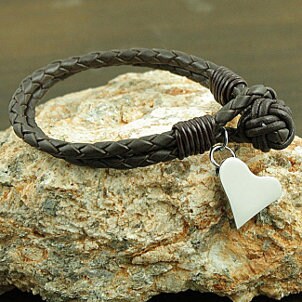 Looking for jewelry with everlasting style? Heart jewelry has been popular for many seasons and it remains a favorite fine jewelry and fashion jewelry option among women of all ages. Heart jewelry is especially trendy for teens. Chunky silver hearts on gold chains go well with jeans, while sparkly heart charms on link bracelets pair perfectly with sundresses. Whether you are looking for sweet jewelry to update your wardrobe or you want to find a wonderful jewelry gift for your daughter or girlfriend this holiday season, consider heart designer jewelry and fashion jewelry.
Heart Jewelry for Teens:

Bracelets with charm: Charm bracelets never go out of style. Heart charms are perfect for accessorizing a gold charm bracelet or a silver charm bracelet. Many fine jewelry charm bracelets have heart charms on their toggle clasps. Other designer jewelry charm bracelets are covered in heart charms of all shapes and sizes. These bold pieces add a lot of flair and shine to anything in your closet and are great youthful jewelry for teens. Let them shine by keeping other accessories to a minimum.

Hearts of glass: Glass jewelry is so hip; it really makes a statement about durability existing within fragility. Glass hearts can dangle gracefully from long necklace chains, chunky charm bracelets, and bold chandelier earrings. Glass heart jewelry is available in many bright colors to suit a youthful wardrobe and accent fashions in every season.

Wear your heart on your finger: Rings are a current favorite in the jewelry world. It's easy to wear a different ring every day because rings don't overpower other accessories, but everyone sees them when you talk with your hands and give class reports. Cocktail rings are funky and bold. Vintage cocktail rings with gemstone hearts are both romantic and in vogue. Sterling silver bands decorated with heart designs are subtle enough to wear every day. Heart rings are perfect romantic jewelry gifts. Consider giving a promise ring with trendy heart designs on your relationship anniversary.

Clusters of hearts: Cluster jewelry is very trendy. You can find cluster charms from a variety of major designers. A cluster of hearts is very dreamy on a necklace, a bracelet or a pair of earrings. Make your own cluster jewelry with a variety of heart charms in different sizes and colors.

Buy Heart Jewelry
Back to Guides Directory