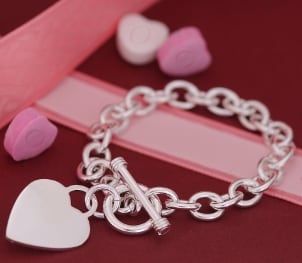 The heart is arguably the most universal symbol and shape. Around the globe, hearts stand for love, friendship and emotion. Heart jewelry has always been popular and is especially trendy today. If you are looking for a fantastic jewelry gift, consider buying a heart bracelet. Heart bracelets are versatile and special; you can give a piece of heart jewelry on any occasion. Heart bracelets can be romantic, and heart-embellished jewelry is also a wonderful jewelry gift choice for mothers, sisters, friends and daughters. Use our favorite heart bracelets to choose the perfect jewelry for someone special.
Our Favorite Heart Bracelets:

Link: Link bracelets are versatile; a heart-link bracelet can be worn on its own or with other favorite pieces. There are many heart-link bracelets to choose from. Gold-link bracelets made of intricate, interwoven hearts are delicate and feminine and add a lot of sparkle to a woman's wrist. Silver-link bracelets with heart charms are eye-catching and go well with silver necklaces, earrings and rings. If you choose to gift a heart-link bracelet, consider adding several heart charms to the gift for extra sparkle and personalization.

Gemstone: Gemstones are always magical, and heart bracelets featuring sparkling gems and jewels are extravagant. Diamond heart bracelets are perfect for very special occasions and will quickly become a favorite of any girl or woman. Birthstone heart jewelry is especially meaningful when given on a birthday. Choose a gemstone heart bracelet featuring the gift recipient's favorite color or jewel.

Glass: Glass jewelry may sound impractical, but it is very trendy and incredibly beautiful. Bracelets, necklaces and earrings featuring glass trinkets and charms are made of solid, durable glass. Bracelets with dangling glass hearts catch the light with every movement. Many glass heart charms are colorful and sparkly; choose a pink glass heart bracelet for your teenage daughter or give a red glass heart bracelet to your wife this Valentine's Day.

Cuffs and bangles: Cuff bracelets and bangle bracelets are the staple of every fashionable woman's jewelry wardrobe. Cuffs and bangles can easily be slipped on to transform any outfit. Cuff bracelets featuring hearts bring whimsy to this fashion must-have. Choose a bangle bracelet embellished with several diamond hearts or select a cuff bracelet with one dangling gemstone heart. This is surely one jewelry gift that won't go unworn.

Buy Heart Bracelets
Back to Guides Directory