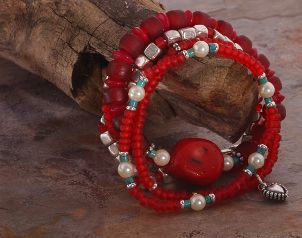 Things You Need:
Beads
Wire or string
Needles
Glue
Scissors
Needle-nose pliers
Creating gifts with beads is a wonderful way to fashion personalized gifts. There are many gifts that can be made with loose beads, from jewelry and accessories to crafts and ornaments. One of the many great things about creating your own gifts with beads is that each item is unique. Additionally, beading is a fun hobby that allows you to create gifts for loved ones that are personal and inexpensive.
Beaded Gifts:

Jewelry is one of the most popular gifts you can make with beads. Gifts that a person can wear to accentuate their favorite outfit are very popular and a lot of people spend a lot of money on jeweled baubles for friends and loved ones. You can surprise someone you care about with a great jeweled gift such as a beaded necklace, friendship bracelet or a pretty handmade ring without spending a lot of money. Additionally, these jewelry gifts are fun to make and really show someone how much you appreciate them.

One of the best parts about making jewelry with beads is that it is fairly simple to learn. If you are new to beading, a necklace or bracelet is a great way to learn the ropes. There are few materials required for making jewelry and you can choose beads in any color, style, and design. Simply measure your wire or string to the proper size, tie off one end or attach a jewelry clasp and string the beads using a needle. Beading simple jewelry is also relatively stress-free, because if you make a mistake you can easily start again. Once you have mastered simple necklace and bracelet designs, you can move on to more difficult patterns and also start making rings, earrings and other accessories.

Ornaments made with beads also make great gifts. If you are looking for a fun craft project that will produce something valuable, then you might consider making holiday ornaments for friends and family. Everyone loves a handmade decoration that they can put on their Christmas tree or hang on their door for all their neighbors to see. Beading with ornaments can be as simple or as complex as you'd like it to be. You can follow a pattern to make a beaded ornament or simply use your imagination. Surprise someone you care about with a decoration or ornament for Christmas, Halloween, Thanksgiving, Hanukkah or Valentine's Day and they'll think about you every year when they hang it up in celebration.
Tip:

When you are giving beaded gifts, particularly nice jewelry pieces, you might consider wrapping them up with the kind of flair that you would find in a jewelry store. Nice boxes and bags with designer tissue paper and pretty bows will make your gift very special. You can even decorate your box or bag with a small handmade beaded charm or embellishment.

Buy Loose Beads
Back to Guides Directory