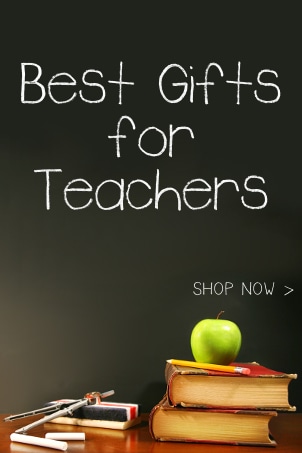 Whether it's the holiday season or the end of the school year, you may be searching for the perfect gift for your child's teacher. Before you grab a ceramic apple for a veteran teacher, stop and think about how many similar gifts past students likely have given. Teachers typically have plenty of "stuff," so be sure to take the time to think about what would be the best gift.
Buying Gifts for Teachers:

Add to the classroom: Choose a gift the teacher can use in the classroom, such as an educational board game that is age-appropriate for the grade, children's books for the classroom library, or a subscription to a children's learning magazine. If you know the teacher does a particular lesson theme each year, consider purchasing appropriate decor, books, or activities for that theme to enhance it for the next year's class. A gift card that the teacher can use to buy new supplies or decorations for the classroom would also show your appreciation.

Pamper the teacher: Teaching is a rewarding job, but it can be stressful. A spa gift basket filled with scented lotions, bath salts, and other stress-relieving products makes an excellent gift for a female instructor. Scented candles work for male or female teachers, but choose mild scents unless you know the teacher's favorite. If you're giving the gift at the end of the school year, right before summer vacation, put together a beach tote bag with a beach towel, sunscreen, and a paperback novel.

Consider the teacher's hobbies: Does your child's teacher love to scrapbook? Maybe the teacher is a golf enthusiast. Choose gifts that go along with the teacher's hobbies. This will show that you took the time to think about him or her as an individual rather than just an educator. If you cannot think of gifts that fit the instructor's interests, consider buying a book about it.

Deck out her desk: A teacher's desk is the epicenter of her classroom world, so find her something special to put on it. A pretty potted plant, a new coffee mug, or a functional desk organizer would help her keep her command center tidy and stylish. Just make sure the gift is either useful or beautiful, so you're not adding clutter to an already-busy place.

Supply the teacher with stationery: Teachers send many notes throughout the school year, making stationery a useful gift. Thank-you cards, decorative notepads, and blank greeting cards are all used on a regular basis. Blank birthday cards are also used for co-workers and students. Pens, pencils, and other supplies are useful to teachers, too.

A note from the heart: No matter what gift you give to your child's teacher, wrap it with a note that thanks her for the work she does. It doesn't need to be long, but any teacher would appreciate a note that recognizes her efforts throughout the school year. If there was a topic that your child struggled with or a specific way the teacher went out of her way to assist your child, be sure to mention your gratitude for that.

Shop Teacher Gifts
Buy Gift Cards
Find the Perfect Present in Our Gift Center
See All Guides
Read More Holiday & Giving Guides
Get More Gift Ideas