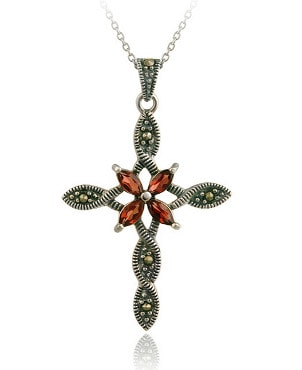 Cross necklaces allow you to express your faith and your individuality on a daily basis. A collection of cross necklaces will put your religion close to your heart and allow you to accessorize every outfit with a piece of religious jewelry. To keep your collection of cross jewelry updated, consider gemstone embellishments. Many different gems look fabulous on a religious necklace. When shopping for necklaces that will sparkle and shine while showcasing your religious beliefs, consider these pieces of gemstone jewelry.
Gemstone Cross Necklaces:

Diamonds: Diamonds are classic and never go out of style. Choose cross necklaces that are decorated with diamonds if you want religious jewelry that will match a variety of outfits. White diamonds are traditional, while colored diamonds bring more flair to a piece of jewelry. Black, pink and yellow diamonds are all great options.

Birthstones: Make your cross jewelry purchase even more meaningful by choosing a necklace featuring your birthstone. Each month has a gemstone, and many months have more than one birthstone option. Religious necklaces with birthstones also make great gifts.

Rubies: The ruby is associated with passion and religious sacrifice in many sects. This red gem is the perfect embellishment for religious jewelry. Rubies are precious gemstones; they are very valuable and will likely grow in value over time. Ruby cross necklaces make perfect pieces of heirloom gemstone jewelry.

Amethysts: Amethysts can be found on many famous pieces of religious jewelry and royal accessories. This purple gem is very symbolic to many Christians, and its beauty makes it a good choice for your cross necklace. The amethyst is also February's birthstone.

Pearls: Pearls have many meanings in religious texts, making them the perfect gem to decorate your cross necklace. You can choose from a variety of pearls that range in size and color. Cultured pearls are the most common in new pieces of jewelry, as natural pearls are very rare. Cultured pearls have the same composition as natural pearls, but they are created with the help of pearl farmers. Look for pink, grey and gold pearls if you want unique, beautiful cross necklaces.

Buy Religious Necklaces
Back to Guides Directory