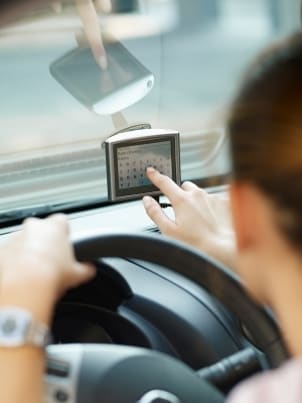 The name "Garmin" is quickly recognizable as one of the top manufacturers of automotive and handheld GPS navigation units. Garmin GPS navigation technology is at the forefront of GPS devices that are making their way into your car, your backpack and even your phone. Here are some Garmin highlights to show you how this manufacturer is getting things right when it comes to GPS.
Garmin GPS Features:

Great Things about Garmin GPS: Garmin is taking GPS to a more detailed, interactive level by guiding you through complicated highway junctions and tangled ramps with lane-by-lane directions. You won't have to guess which lane to be in to catch the right exit, because Garmin GPS guidance takes you through your route in detail, with easy-to-read menus and maps.

More than just roads: Garmin seems to understand that you're not always on the highway or hiking the trail to get from here to there. That's why they include maps of public transit options, like bus routes and subway systems. Garmin navigation can even get live, up-to-the-minute schedule information on when that next bus or train will be coming by.

Hundreds of waypoints: Whether you're driving on unfamiliar roads or trekking through the wilderness, it'll help that your Garmin GPS navigation system accepts multiple waypoints along your route, allowing you to mark important locations and landmarks. Your Garmin GPS will even bookmark favorite locations so you can find them quickly later.

Waterproof hand-held GPS units: A little weatherproofing is great when you're using electronics, like GPS navigation, in the great outdoors. Many Garmin models are water-resistant or waterproof, which helps protect your device from moisture you may encounter on the trail.

Reverse tracking: Need to retrace your steps? If your Garmin GPS unit has the right settings, it'll remember where you've been as well as where you're headed. Backtrack or reverse your route and get yourself back on track.

Extra features: Garmin isn't satisfied with just giving you regular GPS navigation functions. Many Garmin models now include Wi-Fi options for Internet access, hands-free calling options and even photo-viewing functions. With more features than ever, Garmin seems to have the whole GPS navigation thing figured out.

Buy Garmin GPS Navigation
Back to Guides Directory