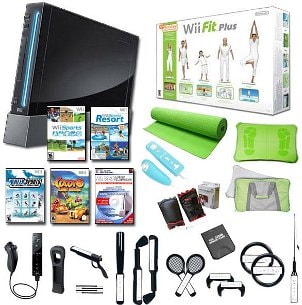 Buying video games and controllers together in Wii bundles can help you save a lot compared to buying Wii games and accessories separately. Often, you can buy several Nintendo Wii extras bundled with an actual console, giving you a good starting collection of games, controllers and accessories right from the beginning. Here are some of the best Nintendo Wii bundles that will let you save on fun games with the controllers you'll need to play them.
Ideal Wii Bundles:

Racing games and steering wheels: You can find Wii bundles for some of the most popular racing games for Nintendo Wii, including "Mario Kart." The motion-sensitive steering wheel controller is easy to use, even by people who are not experienced gamers. Watch for Wii bundles with as many as four remotes and wheel controllers to enable the maximum number of players.

Wii Fit Plus and balance board: Several Wii Fitness bundles include various sports and fitness training games, but the "Wii Fit Plus" is one of the most popular. The balance board controller lets you perform various workout functions on your Nintendo Wii. Wii bundles with a yoga mat and weight gloves open up even more workout possibilities, bringing a home gym to your living room.

Sports bundles: Wii bundles with sports games and special controllers are common as well. These can be some of the best values, because many Wii games are sports collections with several types of games on a single disc. Play tennis, football, pool and other games, each with their own specialty controller.

First-person shooters and pistol controllers: Shooter games are still some of the most popular video games on every console. Wii bundles with shooter games and gun controllers open up more realistic game-play for all tactical and first-person shooters. Depending on which games you like, you may find Wii bundles with pistol, rifle and shotgun controllers.

Compatible GameCube controllers: You may already know that you can play your old GameCube games with compatible Nintendo Wii consoles. To play them, however, you will need original GameCube controllers or compatible new Wii controllers that work for the old games. Look for Wii bundles with classic controllers or GameCube controllers that you can use with old and new Nintendo games.

Buy Nintendo Wii
Back to Guides Directory