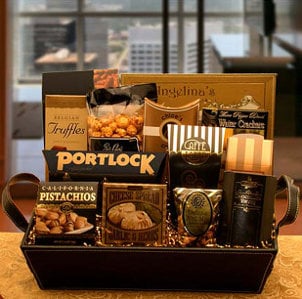 Food gift baskets make the best gifts for many occasions. Sweet treats and salty snacks wrapped up with a bow will delight your husband, mother, best friend, son, neighbor, or co-worker. Gourmet gifts show someone how much you really care, and food gift baskets give you the chance to show someone how much you know about their personal tastes. Consider some of these favorites for popular gift-giving occasions.
Occasions for Food Gift Baskets:

Valentine's Day: Valentine's Day gift baskets should include the things you need to create a romantic evening. Chocolate gift baskets are perfect for Valentine's Day. Look for one that features gourmet truffles, dark chocolate bars, chocolate-dipped fruit, chocolate cookies, or fine hot cocoa blends. Wine and cheese gift baskets are also ideal gifts for Valentine's Day. These may include one or more bottles of wine, wine accessories, hand-crafted cheeses, and cheese accessories. Sip wine and taste fine cheese and chocolate by the fire with your special someone this Valentine's Day.

Birthdays: Surprise someone with a gourmet gift basket on her birthday. Birthdays are the perfect time to give food gift baskets because they tell the recipient to take a little time and enjoy the special day. Snack baskets are fun for birthdays. Look for one packed with nuts, pretzels, popcorn, crackers, cheese, and cookies. Add the birthday girl's favorite movie to the gift for a present that will inspire her to take an evening off.

Winter holidays: This Christmas, Hanukkah, Kwanzaa, or Yule, give food gift baskets to all your favorite people. Look for gourmet gift baskets filled with seasonal favorites. Peanut brittle, citrus fruits (which are in season in December), chocolate truffles, specialty teas, toffee, and baking mixes will bring warmth to anyone's home for the winter holidays.

Anniversaries: An anniversary present doesn't have to be expensive when you know how to show your love. Food gift baskets are appreciated because they are personal. For anniversaries, give food baskets that the two of you can share. Shop for fruit baskets filled with exotic treats or choose gift baskets stuffed with his favorite candy.

Housewarming parties: Taking a gourmet food gift basket to a housewarming party is excellent form. In addition to snacks, treats, candies, or beverages, shop for baskets with gifts that the new homeowner can use. Glasses, bar accessories, and kitchen decor are great options.

Buy Food Gift Baskets
Back to Guides Directory