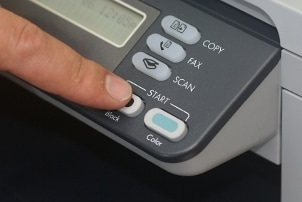 The efficiency and functionality of your office often depend on your office electronics. Computers, printers, fax machines and supplies are all vital office tools, both at home and at the office. Fax machines are one of the most heavily used office electronics, so it's important to know what to look for when you shop for a durable, high-efficiency machine. Here are some of the best features to look for.
Fax Machine Features:

Transmit speed: Fax machines measure their connection speed in kilobits per second (Kbps). Higher connection speeds mean shorter transmission times. Typical fax machines can transmit a page in 6 to 15 seconds. High-end fax machines are even faster.

Onboard memory: If you run out of paper, your fax machine will store the fax data until you restock. But fax machines only have so much memory storage. Look for machines with a couple megabytes (MB) of onboard memory. Fax machines with 8 GB of memory will store about 500 pages, so you can run out of paper over the weekend and not lose any faxes.

Pages per minute: Print speed is important for fax machines in high-volume offices that receive dozens of faxes a day or receive long documents. Consider your fax volume and choose a printer that matches your needs in pages-per-minute.

Speed dial: You can easily find fax machines with large speed-dial capacities. Some machines can store hundreds of numbers, available at the push of a button.

Broadcast ability: Fax machines with broadcast ability can send a fax to multiple numbers at once, which can save you a lot of time punching in fax numbers, especially if they're on your speed dial.

Copy and print functions: You can copy, print and scan documents with a multifunction fax machine. Check for all the other features in this guide, as well as scan resolution if you're looking at a multifunction machine.

Duty cycle: The duty cycle is how many pages your fax machine should be able to handle in a month. This can be difficult to calculate unless you track the faxes you receive. A good fax machine can have a duty cycle of 10,000 pages per month.

Buy Fax Machines and Supplies
Back to Guides Directory