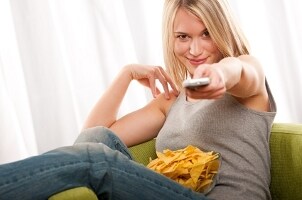 When it comes to HDTVs, a lot of manufacturers are competing for your attention. That competition leads to some of the best technology to hit TV in a long time. Toshiba TVs are strong competitors, and a Toshiba widescreen TV is a technologically advanced yet affordable option for your entertainment setup. Toshiba televisions are known for their great reproduction of deep blacks, a low number of visual artifacts and reasonable pricing. Here are some details on the best features to watch for in a Toshiba TV.
Toshiba TV Highlights:

Huge screen sizes: You can find a Toshiba LCD TV in just about any size. Depending on the size of your viewing area, you may want a relatively small television or the largest version available. You can find a 32-inch Toshiba TV for an intimate space or an impressive screen of 50 inches or more.

Improved anti-motion blur technology: Some LCD TVs suffer from "ghosting" during fast-paced action scenes with a lot of movement. But a Toshiba TV with a frame rate of 120 Hz or 240 Hz can help reduce motion blur and pixilation, giving you a clear picture when it matters most.

Built-in DVD players: A Toshiba TV with a built-in, up-converting DVD player reduces the number of components and connector cables in your entertainment center, making it easier to manage. The up-converting DVD player also upgrades your standard-definition DVDs to stunning, near-1080p clarity.

Many connectivity options: Several Toshiba TV models feature an impressive number of connection ports, including multiple HDMI and component ports. You'll even find PC, S-video and optical audio ports. Such a variety of connection options ensures that you can connect just about any device to your new Toshiba TV.

Impressive contrast ratios: A wide range of colors is essential for a quality viewing experience, and you'll find that Toshiba TVs boast great contrast ratios. The picture you get from high ratios will reveal deep blacks, vibrant colors and stunning detail you may not have noticed before.

Compact versions: Small Toshiba TVs can still impress, even those below 32 inches. A compact Toshiba TV is great for use in the kitchen, the garage or even in a luxury bathroom.

Buy Toshiba Televisions
Back to Guides Directory