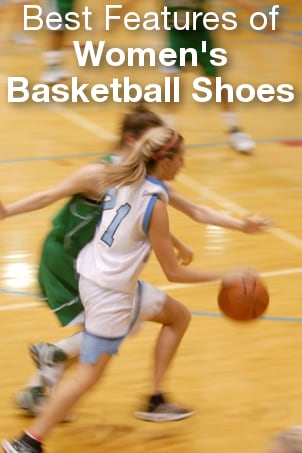 SHOP WOMEN'S ATHLETIC SHOES NOW >>
You want to be on top of your game on the court, and the right women's athletic shoes can help you do just that. Intended to give you the best performance for the sport, basketball shoes are specifically designed to help you run, jump, and turn on the basketball court. Before you start shopping, learn about the best features of women's basketball shoes to help you stay on top of your game.
Basketball Shoe Features:

Comfort: Above all, your shoes should be comfortable, and basketball shoe styles are designed to be as comfortable as possible while you're dribbling and passing, and especially while you're jumping to make a shot or catch a rebound. Basketball shoes are designed to fit just right, so you can move comfortably, confident that soft insoles are there to cushion your jumps. To get the most out of the comfort, you have to make sure you get the right size, so be sure to read our guide on measuring your feet for shoes to get tips on finding your size.

Ankle support: High-top styles offer the most ankle support, and women who want to avoid sprained ankles should look for high-top basketball shoes. Not all women's basketball shoes are this style, however. Athletic shoes with a lower ankle focus on balance in the shoe and sole to promote proper alignment and reduce ankle injuries.

Lightweight materials: You don't want to be weighed down on the court, but you want a shoe that is durable. Basketball shoes are made with lightweight, durable materials, so you can maneuver the court without wearing out your shoes. A good shoe should also be balanced, which helps you keep your weight centered while you're playing.

Air flow: Your feet are likely to sweat when you're playing basketball, so ventilation and air flow are important. Basketball shoes have panels of mesh and other breathable fabrics to let your feet breathe while you're playing. The more air flow a design has, the more comfortable the shoe will be on the basketball court.

Sole: The sole of a basketball shoe serves several functions: traction, proper alignment, and shock absorption. The soles are wide and flat to give you balance and proper alignment while you're running and jumping, and typically have a herringbone pattern to increase traction on a smooth surface. The sole will also act as the first layer of shock absorption between your foot and the floor.

Shop Women's Athletic Shoes
Shop Women's Sneakers
Shop All Women's Shoes
See All Guides
Read More Clothing & Shoe Guides
Learn More about Shoes
Published October 6, 2011
Updated January 9, 2015