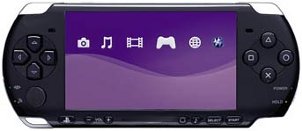 Portable gaming keeps getting better, with bigger display screens, more video games and increased functionality. The Sony PSP offers plenty of great features in a portable gaming system that are hard for other systems to match. Here are some of the highlights of the PlayStation Portable to help you measure it against other systems.
Advantages of the Sony PSP:

Wi-Fi and Bluetooth connectivity: You can connect your PSP to your home Wi-Fi network, allowing the portable game system to connect to the Internet and other devices, including your PlayStation 3. Bluetooth also allows other Bluetooth devices to interact with your PSP, exchanging files and making your PlayStation Portable into a remote control for your PS3 or home theater.

Movies: The big screen featured on the Sony PSP allows you to watch movies on your portable game system. You can find many blockbuster titles available in the PSP game format. This makes your PSP into a portable video player that you can take anywhere.

Downloadable content: Through a Wi-Fi connection, you can access the PlayStation Network (PSN), which has plenty of downloadable content. Play online with friends, access online PSP games, download music and even find free content. The online content for PSP opens a lot of possibilities for portable gaming.

Video output: Several PlayStation Portable models, including the PSP 3000 and PSP Go, feature a composite video-out port for connecting your PSP to a larger screen. This feature allows you to play PSP games on your TV while connected. You can also watch movies on your TV this way, using the PSP as a video player.

Expandable memory: Each PSP model features an expandable memory card slot, allowing you to add more flash memory storage. More memory allows you to download more games and plug-ins and store more music and photos. Different models of the Sony PSP support different types of memory cards. The PSP Go uses the Memory Stick Micro, while all previous PSP versions use the Memory Stick PRO Duo format.

Buy Sony PSP
Back to Guides Directory