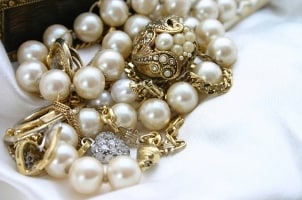 Jewelry lovers and pearl collectors around the world prize Akoya pearls. These lovely gems make stunning pearl necklaces, bracelets, earrings and rings. Whether you are shopping for your first pearl necklace or you are looking for pearl rings to accessorize your prized collection of vintage dresses, consider Akoya pearls for their luster and traditional look.
All about Akoya Pearls:

Consistency: When shopping for pearl jewelry, you may find a lot of strands with mismatched pearls. Pearls are produced organically, so their shape and size are not easily controlled. Akoya pearls come from the Akoya oyster, which is small, but produces pearls of consistent size and shape. Akoya pearl jewelry is prized for its matching gems.

Luster: A pearl necklace should shine in any light, making luster a very important factor when shopping for jewelry. Akoya pearl jewelry offers a high level of luster compared to other types of pearls. These pearls shine brightly, even against the backdrop diamonds, sapphires and other stunning gems.

Color: If you are looking for pearl jewelry with traditional hues, then Akoya pearls are for you. Akoya pearls may be cream or white and have layers of silver or pink. These pretty colors shine with a high level of iridescence and are neutral enough to wear with black cocktail dresses, grey suits and pink summer skirts.

Value: Akoya pearls are beautiful, and they look stunning in all types of jewelry. Akoya oysters rarely produce a bad pearl. Because pearl farmers don't have to sort through Akoya pearls just to find a good gem, Akoyas remain affordable in a variety of jewelry styles.

Stylish options: Akoya pearls look amazing in any style of jewelry. They are uniform enough for pearl necklaces of any length and bracelets of any style. Larger Akoya pearls work well in pearl studs, and small Akoyas can easily be arranged into intricate designs for chandelier earrings featuring diamonds and other gemstones. Many pearl rings feature complex patterns of Akoya pearls. Collect a whole jewelry box of Akoya pearl jewelry.

Buy Pearl Necklaces
Back to Guides Directory