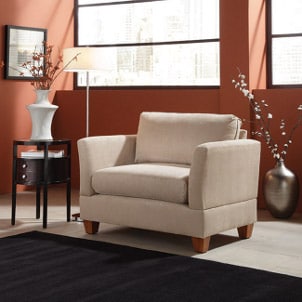 With all the things you have to get done in a day, living room furniture maintenance isn't something you want to have to worry about; yet it's important to keep your house looking fabulous in case of unexpected guests. Investing in microfiber living room furniture will give you a head start. Microfiber living room furniture is elegant and it practically takes care of itself and always looks magnificent. Keep reading below to find out what the best features of microfiber living room furniture are.
Microfiber Living Room Furniture:

Microfiber furniture is low maintenance. Microfiber does not generate lint or dust, which means your microfiber sofa is incredibly easy to keep clean. Your microfiber living room furniture just requires a quick cleaning with a vacuum every so often to get rid of any airborne allergens. The microfiber fabric is woven tightly so those allergens won't sink into couch cushions, which makes it easy to vacuum up. In addition microfiber furniture doesn't require a regular regiment of conditioning or waxing like leather furniture.

Microfiber furniture looks stylish. Another great thing about this living room furniture is its elegant appearance. Microfiber tends to look more expensive than it really is. Your new microfiber sofa could pass for a more expensive fabric like suede. In addition to looking great, microfiber furniture is usually lightweight. This makes it easy to move when the urge to redecorate hits you.

Microfiber furniture is durable and easy to clean. Investing in microfiber living room furniture is smart because we know there are other things you want to do in your life besides clean your living room couch cushions. All you need is a little liquid soap or laundry detergent and water to deal with any spots on your microfiber fabric. Liquid spills bead on your microfiber living room furniture, so it's easy to catch it before it soaks into the fabric. The microfibers are man-made and are thinner than a strand of human hair. Large quantities of these small fibers make the fabric flexible and strong.

Microfiber furniture is reasonably priced. Microfiber's affordable prices make it an even sweeter deal, especially when compared to the price of leather sofas and sectionals. When you invest in microfiber furniture, you're investing in your own future. You'll be able to afford several pieces of the classic microfiber furniture at their great prices.

Microfiber furniture is soft and inviting. Other fabrics fray easily and can be rough. Leather runs the risk of cracking, snagging and can grow either too hot or too cold to sit on comfortably. The great thing about microfiber furniture is its softness. Microfiber furniture is always a comfortable and inviting place to sit.

Microfiber furniture is available in a variety of styles and colors. Yet another fabulous upside to microfiber living room furniture is its versatility. Microfiber living room furniture comes in every style and color imaginable. Your choices are wide and vast. You'll be able to choose from armchairs, ottomans, sofas, couches and sectionals. You don't have to limit yourself.

Buy Living Room Furniture
Back to Guides Directory