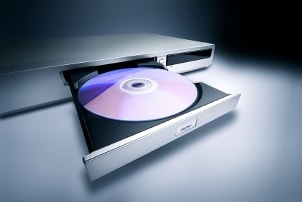 Dynamic features of advanced DVD recorders can offer a lot of flexibility when it comes to transferring your old tapes to disc or just DVD-recording your favorite TV shows and movies onto custom discs. Watch for a few of these features to narrow your search down to highly functional DVD recorders.
Traits of the Best DVD Recorders:

DVD upscaling: Sometimes called "upconversion," DVD upscaling is the process by which certain DVD player/recorders artificially increase the standard-definition picture of DVDs to a higher resolution. The resulting picture is not as clear as a full high-definition picture, but it is still a big improvement.

Connection ports: DVD recorders can connect to more than just your TV or home theater, but you will need a recorder with a USB or Ethernet port to connect a computer. Computer connectivity is beneficial for DVD recorders because it allows for different video and audio input. You can play MP3s and other compatible media files through your DVD recorder/player. You can also play or record digital files from a memory card if your DVD recorder has a slot for it. HDMI ports are coming standard on more video players as well, letting you transfer audio and video over a single cable.

Built-in TV tuner: With its own tuner, your DVD recorder can pick up analog or digital broadcasts without worrying about getting input from your TV or cable box. DVD recorders with separate tuners can also record on one channel while you watch a different show on the TV.

Digital file support: As mentioned above, many DVD recorders can play multiple digital video and audio file types. Check to see whether players you are considering support file formats like those in your music collection or digital copies of movies.

Flexible recording: This unique feature automatically scales the quality of the video that you are recording to fill all the available space on a DVD. This is especially useful if you are recording digital broadcasts in HD because you will lose less video quality than just converting the video to standard definition.

Built-in hard drive: DVD recorders with their own internal memory can hold more than one recording at a time before burning them to disc. You can also playback video on the DVD recorder, similar to a DVR, without burning it to a disc at all.
What Do You Want to Do Next?

Shop DVD Recorders
Shop DVD/VCR Combos
Shop All Video Players & Recorders
See All Guides
Read More Electronics Guides
Learn More about Audio & Video