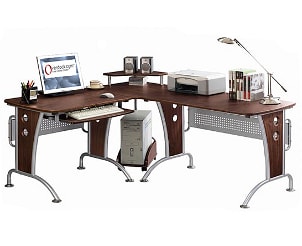 When outfitting your home office, it's important to choose office furniture that's practical as well as attractive. Computer tables, more generally known as computer workstations, are a valuable addition to any office. Computer desks provide a place for your computer and, in some cases, offer drawers and shelves for other office necessities. The right computer table will make you better organized and more efficient.
Computer Table Features:

Stable work surface: One advantage to a computer table is the stability it provides. Instead of balancing your notebook computer on your lap, you can rest it on a table where it won't wobble or slide to the floor. Putting your laptop on a computer desk also prevents the overheating of your lap, which can be uncomfortable over long periods of time.

Drawers and shelves for storage: Many computer workstations, especially those leaning in a desk direction, include built-in shelves or drawers. Shelves allow you to keep your work surface clean and clear of distractions so you can focus on the job at hand. You can also store things like printer paper, back-up ink cartridges and cords right where you keep your computer so you don't waste time looking for misplaced computer accessories. If your computer desk has drawers, you can keep hanging files and bulkier folders nearby for easy access while you're working.

Portability: Some computer tables are designed like rolling TV trays. They provide enough space for a laptop and a piece of paper, and that's about it. What you give up in storage space you reclaim in portability. Now your computer workstation is as moveable as your laptop; use it while watching TV or roll it into the other room to find a quiet place to work.

Aesthetics: Computer tables are available in many finishes and styles. Choose a glass-topped computer station to add a modern feel to your home office or a more traditional wooden computer desk to keep you grounded. A computer table with a white finish will blend into almost any decor and brighten the entire room.

Space-saving: If you choose a small computer table, you can stake out a spot for yourself without taking up a whole room. Computer workstations can be small enough to tuck into a corner or under a window; now you can have a clear spot for your stuff and room for other family members, too.

Buy Computer Workstations
Back to Guides Directory