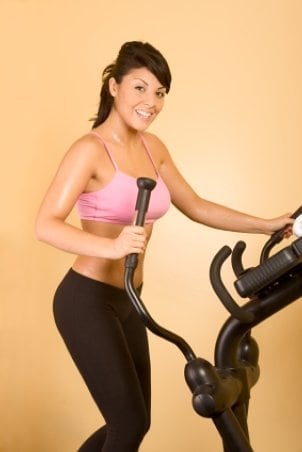 Get fit minus the unnecessary joint pain by using an elliptical machine. Developed to provide a full-body aerobic and toning workout that was also low-impact, the fluid motions of an elliptical machine protect your joints as you exercise. When you workout with an elliptical trainer, you get a lower body and upper body workout, thanks to the pedals and the moving handles. By avoiding injury with an elliptical workout, you'll be able to have a constant home fitness regimen that keeps you in shape and on the move.
Elliptical Machine Features:

Electric monitors: Most elliptical trainers use electricity to power the monitor, but the movement is mainly driven with your feet and partially with your arms. Monitors are very useful on an elliptical machine. A monitor can measure your heart rate or track how many miles you have covered. If you want to measure the intensity of your elliptical workout, a monitor is a must.

Reverse motion: Although forward motion is the standard movement of most elliptical trainers, many have a reverse-motion feature. By moving in reverse, you work different muscles for an even more comprehensive elliptical workout. If you would like to use your elliptical in forward or reverse motions, find one that will do both.

Stationary handles: Although most elliptical trainers include moving handles, you can find one with stationary handles as well. Many handles also include heart-rate detectors. Ellipticals with moveable hands do offer a more comprehensive workout, but some people find it difficult to adjust to the movement. If you fall into that camp, don't hesitate to get an elliptical machine with stationary handles.

Adjustable stride length: Make sure the size of the elliptical can accommodate you stride length. New models have adjustable stride lengths, which studies have shown may increas the calories burned on an elliptical. This is a good idea, especially if you are going to have several members of the family using the same home gym machines. Forcing yourself into a stride length that isn't natural can decrease the quality of your workout. Avoid this by picking up an elliptical machine with adjustable stride length.

Buy Elliptical Trainers
Back to Guides Directory