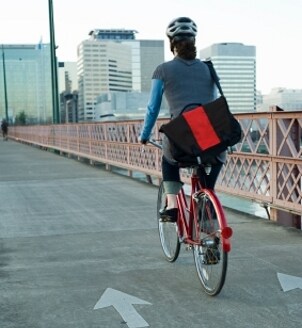 Whether you use your laptop for business, school or just keeping in touch, you're probably using it on-the-go. Laptops are ultimately portable, but carrying your laptop with you means exposing it to bumps, scratches and the elements. That's why it's a good idea to have a good laptop case for transporting your laptop and laptop accessories. When you search for new laptop cases, keep a few of these features in mind to determine which is best for your situation.
Laptop Case Features:

Laptop size: If you have a laptop with a screen that is larger than 15 inches, you may have to search a bit to find a laptop case to fit it. Larger laptops are also heavier, so be sure the strap or straps on the laptop case are strong enough to hold the computer without unnecessary wear.

Laptop case style: The style of your laptop case will vary, depending on what you're using it for. If you're using the laptop for business, your computer case should by stylish without being flashy. A business laptop case should also carry most or all of your other business materials. Carrying more than one bag is a hassle. Make sure your laptop case has enough capacity for everything.

Materials: The key in selecting the materials for a laptop case is durable construction. A durable shoulder strap is essential for preventing your heavy laptop case from dropping and tumbling your laptop and everything else onto the ground. Weather-resistant materials can also help protect your laptop case and contents from the elements.

Other compartments: This is related to your laptop style. You'll want room for everything you'll be carrying, which means laptop backpack compartments for other laptop accessories, like adapters, data cables, and external mouse, and any textbooks or business materials you'll be carrying.

Comfort: If you laptop case and contents are especially heavy, you may want to look into a case with rollers and an extended handle. Otherwise, look for a laptop bag with a durable, yet comfortable, shoulder strap. A padded shoulder strap and even lumbar straps can help keep your laptop case stable, especially if you're riding a bike.

Buy Laptop Cases
Back to Guides Directory