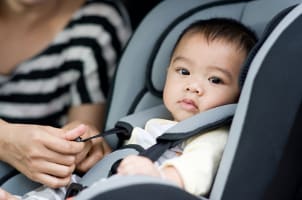 Your baby's car seat is his best protection while he is in the car, so you want to make sure you buy the right one for him. While there is no one car seat model that works for all families, many parents choose convertible car seats for their babies. The following list of features can help you decide if a convertible car seat is the right choice for you and your baby.
Convertible Car Seat Features:

Convertible position: Convertible car seats can switch from rear-facing to forward-facing; many also can become toddler seats or booster seats. The convertible positions are designed to keep your baby safe during all his stages, from infancy through his toddler years. By being able to change the position and design of a single car seat, parents eliminate the need to buy additional car seats further down the road.

Wider height and weight limits: Since convertible car seats are designed for children to use from infancy to early childhood, the height and weight limits are much broader than with a traditional car seat. Most often, parents need to buy a new car seat because their baby has outgrown his. This isn't a problem with convertible seats, and they typically don't have a minimum height or weight standard either.

Five-point harness: The five-point harness is the safest harness system for babies, and most convertible car seats have this type of harness. Although other infant car seats will typically have a five-point harness to keep your little one safe, not all toddler and booster seats do. Having one car seat with a safe harness helps you keep your baby safe during all his stages of babyhood.

Impact protection: The most important function of a car seat is to keep your baby safe in an accident. Babies need different types of support at different ages, however. An infant's biggest threat in an accident is neck injury, so a rear-facing car seat that reduces neck strain is best. Toddlers need more protection during side-impact accidents, so toddler seats with plenty of support on the sides will keep your little one safe. A convertible car seat has all the right protection for your baby at every age.

Support features: Babies need to be properly supported in their car seats, and just like impact protection, support needs change as your child grows. Convertible car seats are designed to provide all the right support, with removable infant headrests and snugglers and adjustable angles. Get all the best support features from one car seat by choosing a convertible seat.

Buy Convertible Car Seats
Back to Guides Directory