Best Features for Business Cell Phones
by Paul Sanders
If you're a businessperson on the go, you likely need to be constantly connected to stay competitive. The right business cell phone can help you stay connected and more. Business cell phones come packed with features aimed at helping you stay productive, informed and in touch wherever you need to be. Here are some of the best business cell phone features to look for.
Business Cell Phones: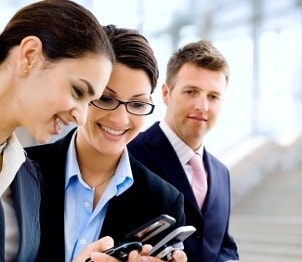 Shop Cell Phones ▸
GSM:

GSM stands for "global system for mobile communications." An estimated 80 percent of the global cell phone market uses GSM as a standard. GSM cell phones can be used internationally if your carrier provides service in the areas in which you travel. Check with your carrier for overseas calling plans and then select a GSM cell phone that's compatible with the local networks where you'll be traveling.

Unlocked:

Some cell phones use SIM cards, which identify your phone to a carrier. The card can be swapped for cards from other carriers, but only on unlocked cell phones. A business cell phone itself may be locked to a specific carrier with software or firmware. With unlocked cell phones, you can switch to a different carrier without switching phones as long as the carrier uses SIM cards. The best way to get unlocked cell phones without problems is to buy them from a third party, like Overstock.com. These cell phones come unlocked, with just the original factory settings. You can then insert your SIM card so that your network can recognize it.

PDA:

PDAs used to be stand-alone personal organizer devices. Now, you can find cell phones with all the features of a good PDA, allowing you to have both in one device. A good PDA cell phone will have an easy-to-use keyboard and plenty of memory to store your data.

Battery life:

Business cell phones have a lot of features, and using them can quickly drain your battery. You can find cell phones with five hours or more of talk time, but that shortens if you use other features. Carry a backup battery, cell phone charger and an international power adapter to keep cell phones charged.