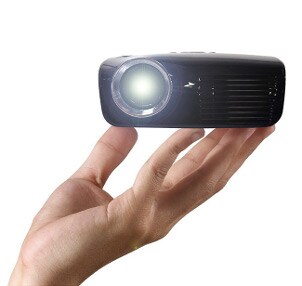 Engaging presentations need to be without glitches or embarrassing delays. You can make the best impression on your audience with the right audio and video equipment. Pieces that are portable and that give you seamless control over the timing and appearance of the material you present will help you create the ideal environment for communicating your ideas.
A/V Presentation Equipment:

Projector and screen: Depending on the venue in which you will be presenting, a full-sized projector or a smaller hand-held projector may be more appropriate. While you may not always have the room or necessity for a projection screen, having a portable screen with a tripod on hand will ensure you have display capabilities for slide shows and other visual elements. Check for compatibility between your projector and your laptop to ensure they work well together.

Connector cables: You may need to connect your computer or projector to any number of monitors, TVs, and other electronics, so having relatively long adapters and extension cables will help you be prepared for nearly any presentation venue. At a minimum, have A/V cables on hand that will let you connect to audio-visual equipment using HDMI, VGA, composite video, and DVI ports.

Portable speakers: Even the best laptop speakers can have a hard time filling up a moderately sized conference room, and you may not be able to rely on the venue's sound system, so portable speakers can save your presentation when all else fails. Computer speakers that can draw power from USB ports on your computer are ideal because they require no additional power outlet, which may not be available.

USB thumb drives: Presentation files can be backed up to your thumb drive (a portable flash drive) in case your computer fails or you do not have another connection option for getting files to another machine at the venue. A flash drive with just a few gigabytes can hold more than enough files for just about any presentation.

Wireless remote: Wireless control over the audio and video elements of your presentation can let you get out from behind the podium and better engage with your audience. Most wireless remotes connect to your laptop with a wireless USB adapter, and a few models even have a built-in laser pointer.
Presentation Tip:

Remember to install all the software for your various audio and visual components and test them before any live presentation. Running through things before hand can give you a chance to troubleshoot equipment problems and familiarize yourself with the material.
What Do You Want to Do Next?

Shop Projectors
Shop A/V Accessories
Shop All Audio & Video
See All Guides
Read More Electronics Guides
Learn More about Audio & Video