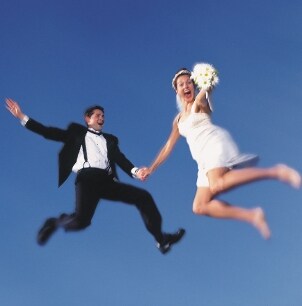 Many couples choose to engrave their wedding bands to give the jewelry special meaning and a high level of personalization. Classic engraving ideas include wedding dates, names, and traditional sayings, but more unconventional engravings can make your wedding rings uniquely yours. Choosing the right engraving for your wedding bands takes some imagination and thought, but these ideas can help you get started.
Unique Engraving Ideas:

Inside jokes: It's a delight to know that only the two of you understand the engraving on your wedding rings. If you share a special inside joke, consider engraving part of the joke on your wedding jewelry. Years from now, you can look at your rings and smile about the bond that the two of you share.

Nicknames: Instead of engraving full names on your wedding jewelry, choose special nicknames that the two of you use privately. These nicknames set you apart from the crowd and will help you remember how amazing your relationship is long after the wedding is over.

Alternative dates: Many couples choose to have their wedding date engraved on their wedding rings, but other dates may also have special meaning in your relationship. The day you met, the anniversary of your first kiss, the day you were engaged, or the dates of your favorite romantic getaway all make great engraving ideas for wedding jewelry.

Foreign language phrases: If the two of you speak a foreign language or have the dream of visiting a favorite foreign land someday, consider foreign language wedding band engravings. Choose a foreign language phrase about love or one that conveys the unique details of your relationship.

Song lyrics: Song lyrics make the perfect romantic wedding band engravings. You have a world full of songs to choose from. You might choose to focus on the song that was playing during your first dance or your favorite song at an exceptional rock concert.

Movie lines: Your favorite movie lines may not be from a classic romantic film, but they can still be engraved onto your wedding bands. Choose the lines that will make you laugh or smile on a dull day or select the lines that you have swapped with one another during tough times.

Buy Wedding Rings
Back to Guides Directory