Best Engagement Rings for Men
by Amanda Mears
Published January 11, 2011 | Updated February 13, 2015
Engagement rings are a symbol of commitment, and they're not just for brides-to-be anymore. Although it's not a common tradition, modern men who want show their devotion prior to the ceremony can take a cue from Brazilian and Argentinian couples who typically have a plain band for both the future bride and groom. Men's engagement rings are also great for same-sex couples who both want to wear a ring.
Best Men's Engagement Rings: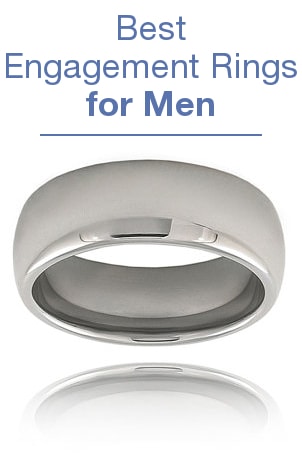 Shop Men's Engagement Rings ▸
Industrial bands:

Stainless steel, tungsten, and titanium bands make great men's engagement rings. If you are proposing to your boyfriend, consider one of these sleek and modern rings. Industrial bands are durable, and many are even scratch-resistant. Industrial men's rings can be the classic grey hue or can be dyed different colors to dress up this simple style. Many men's industrial bands are also decorated with gold, silver, or platinum tones.

Estate rings:

Giving vintage jewelry is a great way to celebrate your relationship and embrace old-fashioned romance in a new manner. Vintage wedding bands and antique gemstone rings make great modern engagement rings for men. Look for estate rings that fit your boyfriend's personal style when you are planning a surprise proposal or want to give him a ring after he proposes.

Novelty rings:

Inexpensive rings that are meaningful to you and your partner can serve as makeshift engagement bands until you exchange wedding rings. Choose something based on his interests or heritage. For example, if he's proud of his Irish ancestry, try a men's Claddagh ring. If he loves cars, look for spinner rings inlaid with a tire-tread pattern. Choosing an original men's ring is an inexpensive and fun way for a couple to prepare for their upcoming wedding.

Nature-inspired rings:

Rings made out of natural wood or featuring a nature-inspired design work well as engagement bands because they are masculine and original. Many of these rings are handmade and eco-friendly, making them perfect for a couple who in concerned about the environment and wants to make a statement through their accessories. Wearing an earth-friendly men's engagement ring is the perfect way to start your life together.