Best Electric Shavers for Men
by Lindsay Law
For easier morning routines, reach for an electric shaver. Shaving can be a hassle, especially if you nick your chin or cut your face with a razor. Simplify your morning schedule and protect your skin with electric shavers. Whether you want a smooth shave or just need to trim your beard, an electric razor can make shaving easier and less painful. The following tips will help you find the best electric shavers for men.
Buying Electric Shavers: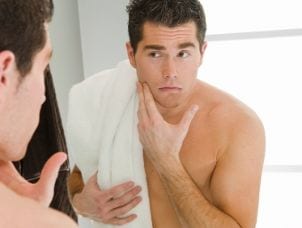 Shop Electric Shavers ▸
Purchase a rechargeable men's razor.

To move your razor easily and quickly around your face and neck, buy a cordless men's razor with a rechargeable battery you can charge when you've finished shaving. You can also look for an electric shaver that includes a cord and compact charging system. Whichever model you choose, you'll save money on batteries with a rechargeable razor. Be sure to find a men's razor with an attached trimmer for shaving hard-to-reach places.

Buy a men's shaver with rotating blades.

Look for a men's shaver with stainless steel blades that move individually for a close shave. To quickly trim beards and mustaches, find a men's shaver with a flexible base that allows you to rotate the razor easily. These rotary razors will help prevent cuts, offer a close shave and are good for sensitive skin.

Look for a razor you can grip easily.

Especially with shaving cream and water, a men's electric shaver can become slippery and difficult to handle. Buy an electric razor with an ergonomic body and curved design you can hold easily. You can also find a men's electric shaver lined with a non-slip rubber coating to avoid cutting yourself or dropping the razor.

Find a razor with a long operation time.

Avoid charging a razor each time you use it by purchasing men's grooming tools that hold their charge. A shaving razor with an operation time of 60 minutes will allow you adequate time to trim all facial hair and will not need to be charged frequently. Buy a shaving razor that also holds a quick 5-minute charge for a fast trim, and look for men's grooming tools you can store easily, even with their charging bases.