Best Electric Blankets
by Raechel Conover
Published April 29, 2010 | Updated February 13, 2015
During the winter months in cooler climates, an electric blanket can go a long way in keeping you warm. Electric blankets help reduce your heating bill, and they come in a variety of styles and selections. They can be used on your bed, on the couch, at your desk, or just about anywhere they can be plugged in to keep you warm. Here's what you need to know to find the best electric blanket for your needs.
Types of Electric Blankets: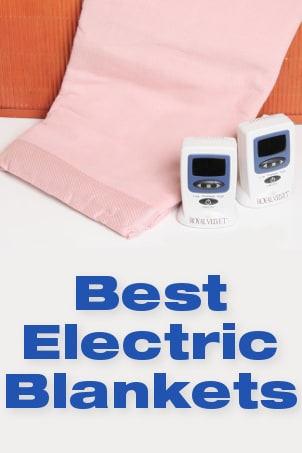 Shop Electric Blankets ▸
UL Certified:

UL stands for Underwriters Laboratories. Many electric appliances have this designation, which means that the product has been reviewed and tested for safety. It is important to purchase an electric blanket with this designation to ensure that it is safe to use.

Automatic shut-off and fast warming:

If you plan to sleep with an electric blanket, then you want it to shut off automatically after a period of time for safety purposes. This will prevent the blanket from getting too hot and burning you or causing a fire. An automatic shut-off feature is an important aspect in electric blankets. Fast warming is just what it sounds like. If you don't want to wait around for a blanket to warm up, opt for a fast-warming electric blanket.

Heat adjustment:

Look for an electric blanket that lets you control the temperature. You can get electric blankets that have a dial for you to adjust the temperature, or you can purchase an electric blanket that has a digital control system. Electric blankets are also available that allow you to set a desired temperature so that the blanket will regulate itself based on the room temperature or the specific needs of each body part.

Fleece:

Warmth is the key for electric blankets. One that is made of fleece will be warm because the material works to lock in heat. Fleece electric blankets come in a variety of colors, allowing you to select a style to match your decor.

Low voltage:

Look for one that has a low voltage. Low-voltage blankets are safer than their high-voltage counterparts. Low voltage means that you have a reduced risk of getting an electrical shock. A regular voltage in electric blankets is 120 volt, and this is deemed safe by the UL.

Mattress pads:

Some of the best electric blankets aren't blankets at all! Heated mattress pads let you start the warmth from underneath your sheet, which is excellent if you live in a cold climate, if you have body aches that need the soothing relief of heat, or if you need bedding for a winter cabin.