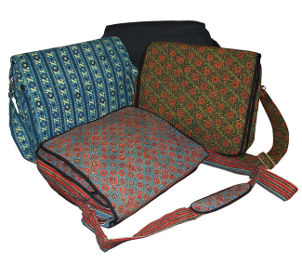 When you're going green, purchasing an eco-friendly handbag is a great way to reduce your carbon footprint. If you want to go green, plenty of options exist that don't compromise style. The best eco-friendly bags are often attractive and easy to maintain. Environmentally-friendly handbag shopping starts with a little bit of research. Here is what to look for in a handbag that is earth-friendly.
Eco-friendly Materials:

Organically grown fibers: Handbags made with materials such as organic cotton are washable, reusable and durable and withstand long-term use. Maintaining cotton canvas bags requires no special treatment or chemicals, making them better for the environment and for you. Cotton, a biodegradable fiber, is soft and flexible but strong enough to hold the weight of personal items in your tote bag, and it won't spend centuries in a landfill like handbags made of synthetic materials. Canvas bags and other cloth purses and handbags are available in numerous styles and options, which makes them the perfect option for carrying your belongings.

Recycled materials: Recycled foil candy wrappers make a unique, eco-friendly material for handbags. These eco-friendly bags use recycled foil wrappers, interwoven to lend a distinctive look. By making use of recycled material that would otherwise be thrown away, candy-wrapper purses reduce environmental pollution and waste. The bags are handmade, thereby reducing the amount of energy and pollution associated with manufacturing them. Purses made of candy wrappers and other recycled materials reduce the production of new fabrics, both synthetic and natural, and therefore reduce the amount of pollution created by production..

Bamboo: Considered a sustainable, strong material, bamboo ranks among the best materials for environmentally-friendly bags, clothes and other accessories. It is the fastest growing plant in the world and requires minimum water to grow. Bamboo plants also release more oxygen into the air than many other trees. It is a biodegradable, earth-friendly and lightweight material, and bamboo purses are both versatile and visually appealing. Look for handbags created with bamboo fabric or a unique purses constructed with raw bamboo wood.

Buy Eco-Friendly Handbags
Learn How Overstock.com is Going Green
Back to Guides Directory