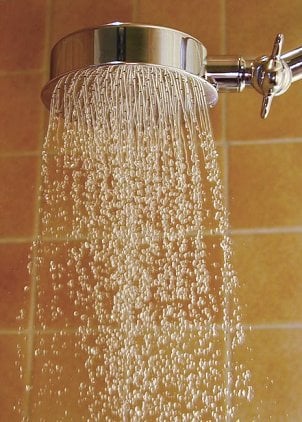 If your trusty shower is starting to bore you, it may be time for a change. That can mean a complete shower remodel, or (if you don't want to spend the time or the money on that) you can easily upgrade your shower for relatively little with a number of different shower improvements. The best easy upgrades for your shower range in price, style and type, like shower curtains that upgrade the look of your shower and a number of different showerheads that can make your shower more luxurious than ever. Take a look at the following shower improvement tips for inspiration and ideas.
Easy Shower Upgrades:

New shower curtain: The quickest, easiest and most inexpensive way to give your shower a lift is a new shower curtain. Find a new shower curtain that matches your bathroom's current decor or create a whole new look with a complete shower or bathroom set. If you want something bright and fun, you can find a wide variety of vinyl shower curtains that come in fun patterns and colors. On the other hand, if you want something that can last for years and will add class to your bathroom, consider a fabric shower curtain.

Massaging showerhead: Switch out your boring, everyday showerhead with one that does more than just get you wet. Massage showerheads come in many different varieties. Depending on the setting, a massaging showerhead can wake you up in the morning or wash the stress away at the end of the day. However, if want just a regular shower setting, massaging showerheads do that well too.

Handheld showerhead: You can add a handheld showerhead to nearly any existing shower setup. These have built-in handles just below the showerheads and a long hose that connects to the shower hookup. The hose and handle let you hold the showerhead and direct the stream of water. Combine a handheld showerhead with a massaging showerhead and you can massage areas that would normally be too far away from a standard massaging showerhead.

Rain showerhead: Rain showerheads are large showerheads that extend directly over your head so the water falls vertically, like rain. Many luxury hotels now use rain showerheads in their rooms, and people who enjoy these showerheads claim that there are few experiences more relaxing and drenching than standing under a rain showerhead.

Shower panels: These setups are the ultimate in shower upgrades. Shower panels have a standard showerhead at the top and anywhere from 4 to 48 massaging water jets mounted horizontally down the wall. These individual water jets often have different massaging settings of their own and adjust to different angles so that you can customize your shower massage. Many shower panels have built-in thermostatic valves, and some have a digital display of the exact shower temperature.

Buy Showers Upgrades
Back to Guides Directory