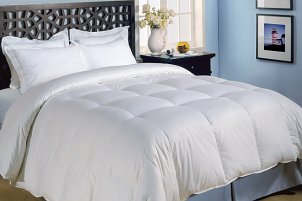 When winter arrives, many people turn to down alternative comforters to keep warm. What's the difference between down alternative and down? Down alternative comforters are filled with natural or synthetic materials, while down comforters are filled with goose or duck down. Here are the best down alternative comforters for winter.
Down Alternatives:

PrimaLoft® comforters: Made from PrimaLoft®, these down alternative comforters are just as warm and comfortable as down. The material was created under contract to the United States Army as a warmer, softer, drier replacement for goose down. Known for its insulating properties, PrimaLoft® is a hypoallergenic material that also has anti-microbial protection.

Luxurious wool comforters: Many comforters are made from lamb's wool, which is known to repel dust mites. Wool comforters are great for people who struggle with dust mite allergies. Since they help wick moisture away, they're also impervious to mold and mildew. Alpaca or llama wool comforters are filled with wool that is softer and lighter than lamb's wool. Any comforter made of wool will give you the warmth you want without weighing you down. For cold winter months, alpaca and llama wool comforters come in different weights, so you can choose how much warmth you need. An eco-friendly option, wool comforters are made from natural materials and last for years.

Microfiber comforters: Microfiber is the term applied to extremely fine synthetic fibers. The most popular synthetic material used in microfiber bedding is polyester. Microfiber can be designed to have many desirable traits, such as water repellency, softness, and durability. Microfiber down alternatives can be made with the same lightweight but warm quality as down, but at a lower price point.

Dura Loft™ comforters: Dura Loft™ is a polyester stuffing fiber trademarked by a Canadian company. And since it's cold in Canada, you know they've created a material that will be cozy and warm. Dura Loft™ is so good at insulating, it's even used in sleeping bags. If you get especially cold while you sleep in the wintertime, this could be a good choice for you.
What Do You Want to Do Next?

Start Shopping for Down Alternative Comforters
Shop All Down Alternative Bedding
See All Guides
Read More Bedding Guides
Learn More about Comforters