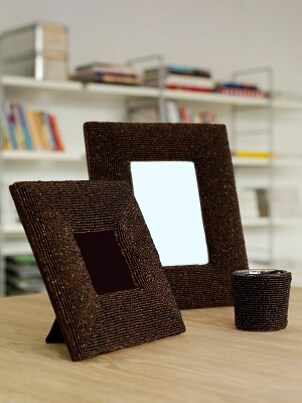 Picture frames help you remember faraway friends and family, which makes them particularly important accessories for college students. Students attending school far from home or those who don't have the means to visit home regularly will appreciate having photos of loved ones close at hand. Some picture frames fit in dorm rooms and student apartments better than others; read on to discover which picture frames you should add to your back-to-school shopping list.
Picture Frames for Dorms:

Space-saving picture frames: College dorms and apartments are the epitome of small spaces, so the more space-saving tricks a college student knows, the better. Some of the best dorm room picture frames are multiple-opening frames or collage picture frames. The most popular multiple-opening picture frames show two, three or four photos in the same frame. These space-saving frames conserve wall space for your student's favorite posters and other hanging decorations and require fewer nails to hang more photos (meaning your student has fewer holes to fill in before her dorm contract ends). Some multiple-opening picture frames have openings of various sizes and can fit both tall and wide photos, while others are three-dimensional and give the dorm a hip update.

Practical picture frames: Part of conserving space in a dorm room or student apartment is having accessories that are as practical as they are decorative; the more uses something has, the more reasons there are for a college student to have it. Some practical picture-frame options include bookend photo holders, glass vase frames and photo coasters. College students are sure to have a lot of books; why not soften that intimidating row of textbooks with stylish bookend picture frames? Having photo coasters around will encourage students to use them, protecting furniture from late-night drinks that keep students awake for all-night cramming sessions.

Easy-to-use picture frames: Generally, the easier a frame is to use or hang, the more practical it is. This is especially true for college students, who usually spend just enough time decorating their space to differentiate it from the room next door. Folding double-frames display two photos and hold themselves up, meaning the frame can be set up as soon as the student moves in. Photo holders that can be hung or stood up on their support arm are also great choices due to their versatility. Holders with support arms that work vertically and horizontally are even better.

Personality picture frames: Personality is an important element of dorm room-friendly picture frames because college students have lots of it and dorm rooms have none. Picture frames that match the student's personality add much needed individuality to what can be a drab living space. Try floral-themed frames for a lighter look or dark-colored picture frames for a more serious feel. Items made of teak or bamboo give the room an exotic feel; boat-wood frames emphasize the rustic, and leather frames suggest comfort and opulence. Bright colors and palm tree themes add warmth and fun to a studios space while sleek black picture frames contribute to a contemporary ambiance. Choose sterling silver, gold or dark wood frames for a traditional look.

Buy Photo Frames
Back to Guides Directory