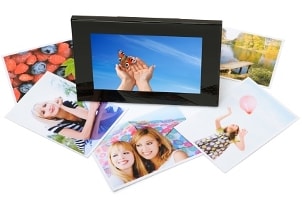 If you feel like you never see all of those digital photos you have saved on your computer, then you need a digital picture frame. While a basic model will get those cherished photos out where you can see them, some include a variety of advanced features that not only make them easier to use, but also give you more dynamic display options for sound and video. Here are a few of the best features to check for when shopping for a digital frame.
Digital Photo Frame Capabilities:

Remote control: A wireless or infrared remote control lets you control your digital photo frame from across the room, cycling through photos and accessing advanced features without touching the frame itself.

Wi-Fi connectivity: If your frame has wireless connectivity, you can stream photos from your PC to your digital frame over your home wireless network. Some digital photo frames require that you subscribe to an online service to access certain wireless features, but most frames come with software that you can install to help with media streaming from your PC to the frame.

Automatic resizing: Not all digital photo frames include the internal software to resize photos before they are displayed. Without resizing, unformatted photos may display small or with blank space on the top or sides of the screen. Automatic resizing means you can display pictures without editing them first.

Audio and video playback: If you want to play home videos or music as well as display pictures, a video-enabled digital picture frame will do both. The frame will need extra memory or at least large memory cards to hold the video and sound files.

Time and date display: With a large LCD screen, a digital photo frame can easily double as a digital clock and calendar. You can adjust the frequency at which your digital frame displays the date and time and even set different pictures to appear at different times of day.

Online photo updates: Wireless digital photo frames can easily let you stream new photos from your PC to the frame, but certain frames can even be synchronized with online photo sharing services. Some services will let friends and family email or text photos from anywhere to appear on your digital photo frame.
What Do You Want to Do Next?

Shop Digital Picture Frames
Shop Memory Cards
Shop All Camera & Photo
See All Guides
Read More Electronics Guides
Learn More about Cameras & Photography