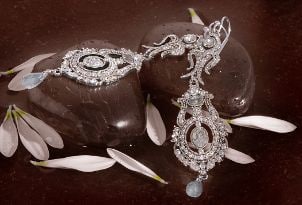 Diamonds are a classic Valentine's Day gift, but if you aren't ready to give a diamond ring, or if you've already given her several diamond rings, consider diamond earrings. It's a gift that's sure to impress any woman on this most romantic holiday, whether the special lady in your life is your wife of 30 years or your girlfriend of six months. You'll impress her most with a pair of earrings that reflects her style.
Diamond Earrings that Impress:

Solitaire studs: Diamond stud earrings are a staple in any well-dressed woman's jewelry collection. If your wife or girlfriend doesn't have a pair, consider surprising her with some this Valentine's Day. For the woman who likes just a bit of sparkle, choose one-carat diamond earrings. To wow her, consider three-carat diamond studs. Heart-shaped diamond studs are also delightful for this romantic holiday.

Love knots: The curving loops of the love knot design represent your eternal love, making these earrings the perfect gift for Valentine's Day. There are drop styles, but the traditional love knot is a stud earring, making them practical for day as well as glamorous for evening.

Hoops: Hoops are incredibly versatile, so even if you haven't known your girlfriend for very long, you can feel confident that she'll enjoy wearing a pair of diamond hoops. Big gold hoops are hip and urban, while small silver hoops are more demure. When buying diamond hoop earrings as a gift, pay attention to her style and select the jewelry that best matches pieces she already wears.

Drop: Drop earrings are available in many styles. Simple and elegant diamond drop earrings like three-stone diamond earrings make a grand gift. Earrings that feature dangling diamond peace signs, hearts, and flowers are perfect for younger women. To really knock her off her feet this Valentine's Day, give her diamond chandelier earrings. These earrings feature intricate designs that mimic the chandeliers of castle ball rooms and showcase a smattering of glowing stones. Drop earrings will capture the light with every movement, drawing attention to her face. Diamond drop earrings are sure to make her smile on Valentine's Day.

Colored: Consider colored diamonds when shopping for diamond jewelry. Pink diamond earrings are perfect for Valentine's Day. If her favorite color is yellow or blue, look for earrings with diamonds in these hues. A fashion-forward woman would love black diamond earrings.
What Do You Want to Do Next?

Shop Valentine's Day Gifts
Find the Perfect Gift in Our Gift Center
See All Guides
Read More Holiday Guides
Get More Valentine's Day Gift Ideas