Best Curtain Rod for a Bay Window
by Lindsay Wilcox

It's easy to add draperies to a wide bay window with a sturdy curtain rod. Since bay windows feature several panes of glass that form a curved polygonal shape, it can be a challenge to find the right curtain rods. Fortunately, this guide will help you find the right curtain rod for your space, whether you want a double curtain rod for layering your curtains or a swing-arm curtain rod you can pull away from the window. Read on for tips on finding the best curtain rod for a bay window.
Bay Window Curtain Rods: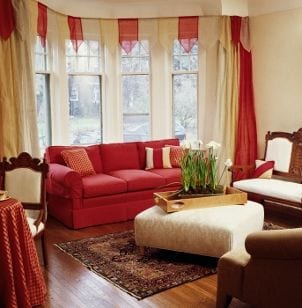 Shop Curtain Rods ▸
Find a curtain rod you can bend to fit the shape of your window.

Buying window curtain rods for bay windows is challenging because of the angles that face outward. Solve this problem with a flexible curtain rod, which is easy to bend and cut, if necessary, to fit the shape of your bay window. Look for a flexible curtain rod made of clear tubing for a style that complements any decor style. These types of bay window curtain rods also work well for porthole, oval and arch windows you want to add curtains to. To create the look of decorative curtain rods in your bay window, purchase unique finials you can attach to the ends of the rods.

Buy separate straight curtain rods for each window pane.

If you're having trouble finding bay window curtain rods that curve enough to cover your entire window, you may want to stick with simple individual window curtain rods. While you won't be able to control your curtains with just one twist of the rod, you'll be able to hang curtains precisely above each window. Mounting individual rods also allows you to choose decorative curtain rods with unique finials that wouldn't otherwise fit above your windows. Separate double curtain rods can give you another option if you would like to layer your curtains.

Purchase curtain rods in materials and styles that complement your window.

Once you've decided on a way to hang curtain rods effectively in your bay window, you'll want to find rods that fit the theme of your home and the design of the window. Iron curtain rods will give you an old-fashioned look, while a swing-arm curtain rod can add a unique vintage touch to your home. To add a different style to your window, buy decorative finials to complement wooden or iron curtain rods.