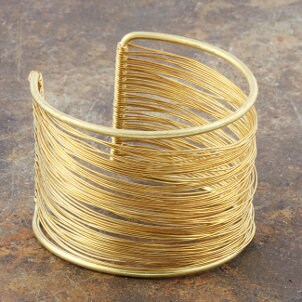 The easy-to-wear cuff bracelet is a fashion standby with its ability to enhance nearly any outfit. Cuff bracelets and watches are also becoming more and more diverse, with artisans from all over the world offering eclectic jewelry creations for fashion lovers. From the extra narrow to the very thick, the cuff bracelet is the one type of jewelry that can be both strong and feminine at the same time.
Cuff Bracelets to Try:

One of the most popular styles of cuff bracelets is the cuff watch. Cuff watches are popular because they are not only beautiful; they are also functional. Cuff watches come in many different styles, from the ornate and intricate to the simple and minimal. You can select a diamond-studded sterling silver cuff watch to wear on special occasions or wear a sporty cuff watch every day to accent a variety of fashion ensembles.

Thick cuff bracelets can bring a lot of flair to almost any outfit. Large cuff bracelets have an eye-catching chunky design. Their larger size leaves more room for intricate etching and artwork while the substantial presence of the jewelry lends an air of strength. These cuff bracelets can accentuate a variety of fashions, simple and extravagant. The key to wearing thick cuff bracelets is to keep other jewelry simple, so the big bracelet can shine without making your entire look seem overpowering and overdone.

Delicate cuff bracelets can be worn alone or layered for a variety of styles. Thin cuff bracelets have a wide range of versatility. Depending on the bracelet, they can be layered to create a more accessorized effect, or they can be worn on their own to add just a little bit of sparkle to a simple outfit. Try layering a thin sterling silver cuff with hemp or plastic bracelets for a highly textured look.

Filigree cuff bracelets are a feminine alternative to clunky and masculine cuff bracelets. If you are someone who wants a daintier cuff without having to settle for one that is so small you can barely see it, then you should consider filigree cuff bracelets. These bracelets have patterns that resemble basket weaves, floral patterns, and other delicate styles, so even if they are quite large, they still look elegant. Filigree cuff bracelets are also widely found in many cultures. Irish and Thai jewelry often features woven tribal and floral patterns, carved gently out of silver or gold. These cuff bracelets also make great gifts.

Beaded cuff bracelets come in many different color combinations to match or contrast a variety of outfits. If you like some color in your accessories, a beaded cuff bracelet is a great way to do it without being overwhelming. Cuffs with a variety of beads are available, including plastic, glass, and clay and can include many strands of skillfully woven beads or just one simple strand. The thinner beaded cuffs are fun to purchase in different colors and can be mixed and matched for a variety of looks.
What Do You Want to Do Next?

Shop for Cuff Bracelets
Shop for Bangle Watches
See All Cuff Bracelets & Watches
See All Guides
Read More Jewelry Guides
Learn More about Bracelets