by J. Paventi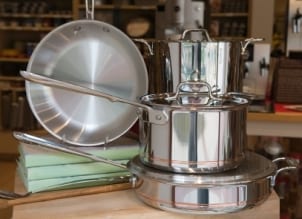 To get the best results from your cookware, it's important to know which cookware will work best with your electric cooktop. While all pots and pans can be used with an electric stove, different cookware works better with different surfaces. Electric cooktops range from the conventional metal-coil burner to glass-top halogen units, radiant heat burners and induction stove tops that use electromagnetic energy to heat food. To learn which type of cookware will work best with your electric range, keep reading.
Electric Stove Cookware:

Aluminum and anodized aluminum: Pans made of aluminum are lightweight, generally inexpensive and conduct heat well when set on any type of burner. Some cookware manufacturers make anodized aluminum pans, which employ a special coating that makes a pan non-stick while maintaining its aluminum core. Anodized aluminum pans are darker in color, sturdier in construction and more expensive than plain aluminum cookware.

Cast iron: Cast-iron cookware has a reputation for cooking food evenly and lasting forever. Cast-iron pans can even be used to start a recipe on a stovetop, and then be transferred to an oven. Bare cast iron has a rough texture, which means that this cookware can be used on conventional coil stoves but is not recommended for use on glass or ceramic cooktops. However, enameled cast iron is smooth and can be safely used on glass or ceramic surfaces.

Copper and lined copper: Heat distribution in copper pots or pans with a copper core is the best of all the pans available. They are smooth-bottomed pans, which makes them acceptable for use on glass or ceramic stove tops. Lined copper pans contain iron, which means they can be used on induction stoves. Induction stoves use electromagnetic energy to transfer heat and cook food. As a result, the cookware must have iron in its construction.

Stainless steel: Stainless steel is made with iron, which makes it a good choice for induction cooktops. Stainless steel cookware is reasonably priced, sturdy in construction and distributes heat well. Like aluminum, stainless steel cookware can also be used on glass or ceramic units as well as radiant and coil burners.

Buy Cookware
Back to Guides Directory