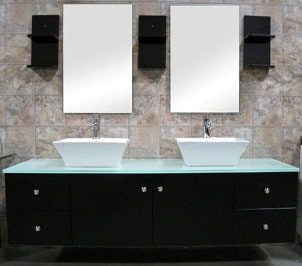 If you're designing your bathroom in a contemporary style, you'll want a bathroom vanity that fits with the look. Whether you're building a new home or remodeling an old bathroom, the vanity will set the style for the rest of the room. If you're not sure what to buy, just look for bath vanities that have these features and you'll end up with a contemporary bathroom that will look like it was decorated by a professional.
Contemporary Bathroom Vanities:

Clean lines: While contemporary design changes with the times, one thing you will usually see is clean, smooth lines. This is what sets it apart from classic style, which tends to feature more ornate details. While they'll come in colors from white to dark brown to black, the best contemporary bath vanities will always have clean, straight edges.

Cool sinks: A vessel sink is often seen on contemporary vanities. Whether it's made of copper, glass, or colorful porcelain, this is a stylish choice. Vessel sinks are great in powder rooms where the small space lets you make a big design statement. If you'd like something larger, look for a square integrated sink; the geometric shape will fit right in with the contemporary feeling.

Streamlined cabinet handles: The handles on the drawers and cabinet doors of a contemporary bathroom vanity will be streamlined and simple. It could be round, it could be square, or it could even be a straight bar, but the hardware won't be ornate. A polished, shining material, like sleek stainless steel or chrome, will work well.

Up-to-date faucets: An old faucet wouldn't look right on your contemporary vanity, so if it doesn't come with one installed, be sure to choose a new one that will complement the style. Create a cohesive look by matching the metal finish to the handles and drawer pulls on the vanity. Modern, geometric shapes will ensure the look is complete.

A furniture feeling: A vanity is a true focal point when it feels like a piece of furniture, almost like a dresser that happens to hold a sink or two. If the vanity has legs, it enhances this feeling even more. Legs raise it off the floor and give the whole room a fresh, airy feeling, too.
What Do You Want to Do Next?

Shop for Bathroom Vanities
Shop All Bathroom
Create a Contemporary Bath
See All Guides
Read More Furniture Guides
Learn More about Bathroom Furniture