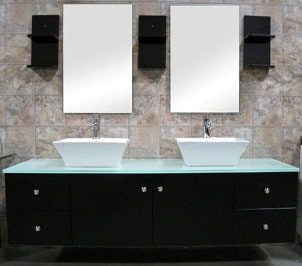 Installing a new contemporary bath vanity will give your bathroom the boost it needs when you're redecorating. Bathroom vanities act as the focal point in your bathroom. If they don't match the style you want, then you'll never be able to achieve that look. Contemporary furniture has a very specific look and strict requirements. Luckily, the rules are easy to follow. Contemporary bathroom furniture is clean and sleek in design. You'll find that it's made from a combination of glass, metal, plastic and wood. Whether you're building your dream home or just updating your bathroom, these tips on how to choose the best contemporary bath vanities will be sure to give you the best look possible for your bathroom.
Contemporary Bath Vanity Features:

Smooth and sleek lines. This type of bathroom furniture features flat surfaces, so you'll need to avoid elaborate and ornate carvings in your bath vanity cabinets. Your bathroom vanity shouldn't have any decoration or intricate details. Make sure your chosen bathroom furniture also features distinct edges and smooth surfaces. Avoid rounded corners and textured surfaces.

Simple sinks. When choosing a sink to go with the rest of your contemporary bathroom furniture, you actually have a lot of freedom when picking materials. Shiny material is a very popular choice. Contemporary sinks can be made of stainless steel, glass or traditional ceramic. Most people prefer to match their sinks and their bathtubs.

Plain handles. You'll need to make sure that even your bath vanity handles meet all the requirements for the right kind of contemporary look. Metallic handles are usually the most popular. Avoid investing in cupboard handles that feature complex designs, drawings or texture. The cupboard and drawer handles should be smooth and simple in order to fit your chosen contemporary style.

Thin material. Another important attribute of contemporary furniture is the minimalistic material. Chunky furniture pieces don't fit a contemporarily styled room's requirements.

Solid colors. Your contemporary bath vanities must be one solid color. Avoid cupboards with bright designs painted or carved into the doors.

Buy Bath Vanities
Back to Guides Directory