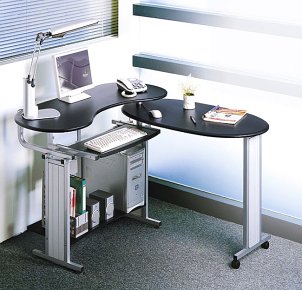 When putting together home offices, there is nothing more central to the room than computer cabinets. When you are picking out the computer workstation for your home, you'll want to make sure you choose one that matches your requirements and sense of style. Computer cabinets are often long-term pieces of furniture you'll have in your home for years to come, so here are a few tips on picking out the perfect one for your home office.
Best Computer Cabinets:

Computer armoire: When it comes to computer furniture, nothing is more comprehensive than a computer armoire. If you have plenty of things to fit around your computer, don't go any further. Computer armoires generally have a myriad of shelves and drawers that hold printers, CDs, office supplies and pretty much everything you might need close at hand. Although you can get them in nearly any material nowadays, most computer armoires are still made with beautifully crafted wood in a French design. Plus, when you are done with the computer, you can close the doors and put it out of mind. For extra security, some armoires even lock.

Writing desk: If you don't want all the bells and whistles, a writing desk makes a perfect computer workstation. Most writing desks come with a simple surface and one or two long drawers. Although you won't have the space to store every odd and end you've ever acquired in your lifetime, the simple design of the desk will encourage you to keep your computer workstation organized. If you'd rather work on your computer without any clutter and some extra space to write when needed, a writing desk could be your perfect fit.

Computer desk: For a piece of computer furniture that fits somewhere between the last two, a standard B is hard to beat. They come in a variety of shapes and sizes, from the larger computer cabinet with a focus on storage to the compact B that can fit in a room of nearly any size. No matter what your space requirements and style, you can easily find a computer desk that will fit perfectly with your decor.

Buy Desks
Back to Guides Directory