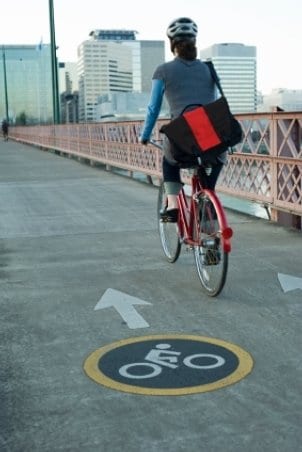 Now that summer has finally rolled in, maybe it's time to toss your gas guzzler and take to the streets on your bike. Many people find biking to work or school an invigorating way to stay in shape, enjoy their morning and save on gas. But if your car isn't going to cut it this year, you're going to need a computer bag that can match your level of adventure. Instead of making do with whatever bulky bag you have lying around, shop online through the huge selection of designer laptop cases to find a computer bag that is both practical and stylish. When selecting the right bag for your morning bicycle commute, there are a few things you ought to consider.
Choosing a Computer Bag:

Know your options. Instead of sticking with the traditional briefcase style, check out the alternatives. You'll be amazed at the of computer bags on the market. Computer bags with a sturdy shoulder strap, one-shoulder slings and full-on laptop backpacks might be better options for bikers.

Shop for storage. Usually, you're going to bring more things to work or school than just your laptop, so extra compartments will be worth their weight in gold. Instead of going with a simple laptop bag with only essential features, you'll find size matters when you're on the go. While you won't want to weigh yourself down with unnecessary bells and whistles, it is essential you find a laptop bag that has space to fit other materials, or even a lunch.

Ride in style. Find a computer bag that matches your taste. If you are planning a bicycle commute, it might be tempting to sacrifice fashion for function, but you're going to want a bag you are happy to wear. Luckily, the large selection available online makes it easy to find a cheap, functional computer bag that makes you look good. Turning the heads of your car-toting co-workers isn't against the rules.

Pay attention to bag material. Biking can be good exercise, so try to avoid dense materials that will trap perspiration. You'll be happy you did when you reach your destination.

Sturdy is the word. Get a computer bag that will last. Thin bags with narrow straps won't be able to handle the wear and tear of a long-term biking commute. If you make sure to get a durable bag now, you won't have to deal with any speed bumps in the future.

Buy Laptop Cases
Back to Guides Directory