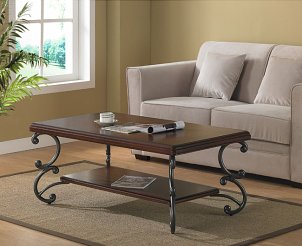 When it comes to coffee tables, materials aren't much of an obstacle. Coffee tables have become so popular that they are now made out of pretty much every material used to make furniture. Whether you have a square coffee table or a round coffee table, you can find it in just about any material you like. Next time you are choosing a new accent table, cocktail table, end table or coffee table, you'll have plenty of options. However, some comparison might be helpful. Here are some of the most popular materials used to make coffee tables to help you on your way.
Coffee Table Materials:

Wooden it be nice: Coffee tables can be made from just about anything under the sun, but the default material is still wood. Solid wood construction is an excellent investment, but these days, most wooden coffee tables are constructed with medium density fiberboard (MDF) and sealed with veneer. MDF is an excellent building material with more advantages than disadvantages. It's a relatively inexpensive, eco-friendly material created from a compound of glue, resin and recycled wood fibers, among other materials, and formed under extreme pressure. MDF's lack of grain, along with its considerable strength, makes it a reliably sturdy, split-resistant wood compound for machining and veneering. Also, sealed MDF has a greater tolerance for changes in temperature and humidity than solid wood. On the other hand, unsealed MDF is prone to shrinkage in hot, dry environments and swelling in areas of high humidity.

Heart of glass: Glass coffee tables are excellent for small rooms and areas where you want to create the feeling of enhanced space. A semi-reflective surface multiplies sight lines and works to establish an attractive focal point in your room. Combine a glass-top coffee table with a visible decorative treatment underneath and you add attractive visibility to your coffee-table storage, not to mention serious style points.

Heavy metal: Most coffee tables that have metal use it as a frame for tempered glass. The effect metal coffee tables create can be fantastic for toning down a room that's decorated to the point of being overdone. They can also let your living room decor breathe by bringing the breezy look of patio furniture indoors.

Buy Coffee Tables
Back to Guides Directory